17 One Liners From Cheryl Blossom That Are Straight Savage
21 June 2017, 17:25 | Updated: 10 July 2017, 11:30
"You've got the vocabulary of a baked potato"
Cheryl Blossom's withering put-downs on Riverdale have become legendary. In fact, she could be the most savage character on television right now (Frank Underwood might give her a run for her money though).
In honour of her acerbic wit and her disturbing lack of civility, empathy and compassion, we've gathered together some of Cheryl's best one liners so you can quote them to your nearest and dearest until season 2, in which we fully expect Cheryl to have invented even more insults for us to use.
1. "Sorry to interrupt the sad breakfast club"
The CW
2. "Hands off, Golum!"
The CW
3. "No, you ghoul"
The CW
4. "Are you living mannequins suggesting I had something to do with my brother's death?"
The CW
5. "Is being the gay best friend still a thing?"
The CW
6. "You catatonic bimbo's didn't vote for me!""
The CW
7. "You've got the vocabulary of a baked potato."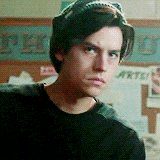 The CW
8. "That was a joke you hobo"
The CW
9. "I think she's crazier than a serial killer on bath salts"
The CW
10. "Looks like Betty Cooper and Veronica Lodge will be at that Chowder-head, Archie's house."
The CW
11. "Listen up fives, a ten is speaking!"
The CW
This line was actually taken from 30 Rock!
12. "Because, you dumb cow. Someone shot my brother and I think it was your crazy, tweaked out sister!"
The CW
13. "Shoo, bitches"
The CW
14. "Nightmare Smurfette"
The CW
15. "Riddle me this, hair models of the damned"
The CW
16. "You did a bad thing, daddy. And now everyone knows"
The CW
17. "Mr Andrews, nice haircut, you're looking extremely DILFy today"
The CW
Slay.