15 Memes You'll Only Understand If Netflix's "Dark" Truly F*cked You Up
27 December 2017, 13:35
All my TV sons go missing and it's TOO MUCH.
If you've seen Netflix's new time travel thriller, Dark, you'll know that it's A LOT to take in. Mercifully, it's been renewed for a second season, so fans have plenty of time (ha, get it?) to meme through the complete mindfuckery that was season one.
via Netflix/Dark
1) When you're watching and all 700 of your theories got your mind racing like...
DARK on Netflix got me like..... #DarkNetflix #Netflix pic.twitter.com/VndkOlr5F5

— Anita Price (@NitersPrice) December 15, 2017
2) i MEAN
3) WHEN THE F*CK
me before netflix's dark (2017): what the fuck?

me after netflix's dark (2017): when the fuck?

— c (@courtney_pdf) December 18, 2017
4) The whole. damn. time.
5) When all the pieces start to fall together.
me watching dark (netflix): pic.twitter.com/nbD9cy4ENm

— Kofo (@wavydad_) December 22, 2017
6) Just to mess with their heads, you know.
Been watching Dark on Netflix. Now all I wanna do is walk up to strangers and ask them what year it is.

— Bob Deluxe (@BobDeluxe) December 22, 2017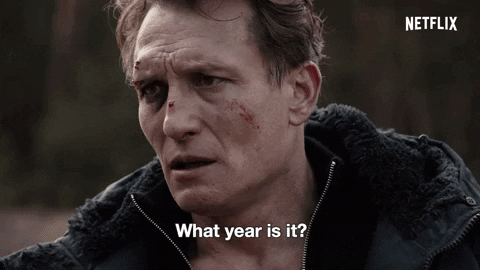 via Neflix/Dark

6) Okay, but Winden what the HELL?

7) Actual footage of me TO BE QUITE HONEST WITH YOU.
8) It's very...involved.
"Can you..."
"No, I'm watching #Dark on @Netflix."
"You can't pause it for a second?"
"There are three timelines where different actors play the same character at 33 year intervals, subtitled from the original German. I can focus on nothing else or I will have to start over."

— Godsfall (@GodsfallDC) December 17, 2017
9) When you get to the last episode.
The show Dark on Netflix. pic.twitter.com/Bh0a6Mwhiz

— GiselBeraht-O Farés (@GoodGameG) December 26, 2017
10) *eye twitches* HANNAH.
11) *extremely Squidward voice* FUTUUUREEE
imagine dark season 2 comes out in 2019 @netflix #DarkNetflix #Dark pic.twitter.com/Gz4jk0RZVy

— JT IS COMING (@TNKidForever) December 21, 2017
12) This. freaking. scene.
13) Just a little light screaming!

14) Will....Mikkel...all my sons are gone.
15) mood.