This Eleven From Stranger Things Style Guide Will Give You Halloween Goals
12 September 2016, 15:23 | Updated: 8 May 2017, 17:09
Pure glamour.
There's a hot new style icon in town and she loves eggo waffles.
giphy
Eleven is the breakout character from Netflix's latest word-of-mouth success, Stranger Things. Played by Millie Bobby Brown, she's on the run from the government when she bumps into Mike, Lucas and Dustin, who are looking for their missing friend Will.
clarkegriffint.tumblr
To help her hide, the boys put together what can only be described as a truly iconic look so she can go incognito to help them reunite with Will. It's cosplay gold. So if you're thinking about halloween already, or just something fun to dress up as, this cosplay guide below with help you get the Eleven look.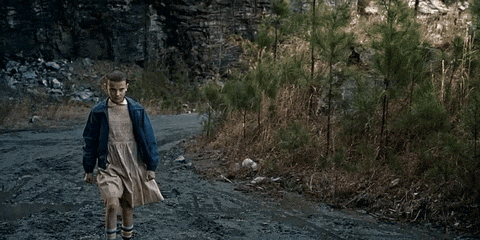 giphy
1. Ya'll going to need a pink dress!
Ok so obviously Eleven is a child so finding an exact replica for an adult is going to be a bit difficult. Modcloth have a similar pink dress for $40/£30 but you might need a peter pan collar to get the full effect. Alternatively, if you're feeling brave (and cheap!) you can buy a school girls dress and squeeze in.
2. Don't forget the blue jacket.
It's practical and will keep you warm while you're eating eggo waffles at night, alone, in a forrest. Eleven would definitely approve. £25/$33 @ ASOS.
3. Knee High Socks
I mean, you should just own this anyway cos they're cool af. $18/£15 @ American Apparel
4. Back to school white plimsolls.
Literally the best thing about sports lessons was wearing these shoes. £13/$17 @ New Look.
5. You might get hungry, make sure you have some Eggo Waffles.
No Eleven costume will be complete with her favourite snack, Eggo Waffles. If you live outside of America, it might be best to print off the design and make the boxes yourself rather than paying $$$ to import actual waffles.
6. Last but not least, the blonde wig.
Ideally you'll do both the shaved-head Eleven and with the wig. You can make a big entrance by storming into the party with a shaved head, perhaps throwing someone across the room as you do for that extra bit of drama. But then, when you wanna be all coy when you see your bae, throw on the wig and let the magic happen. £5/$7 @ Amazon.
Already tried Eleven cosplay? Show us your photos!