Emily In Paris soundtrack: Every song in the Netflix show
2 October 2020, 17:35 | Updated: 11 January 2022, 16:50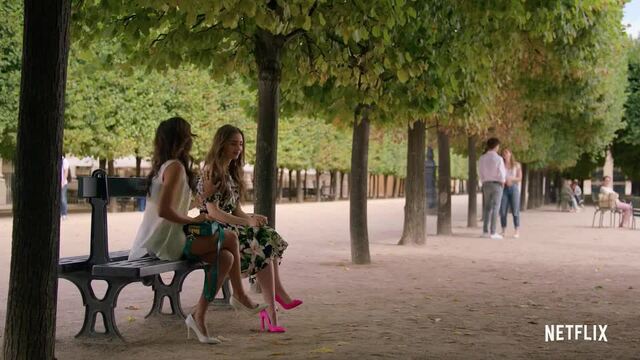 The official trailer for Emily in Paris on Netflix
From Kid Francescoli and Sia to Kumisolo and Husbands, here are all the songs in Emily In Paris season 1.
Looking for a new show to binge-watch? Look no further than Netflix's new rom-com series Emily In Paris.
Starring Lily Collins as Emily Cooper, alongside Lucas Bravo as the dashing chef Gabriel, Emily In Paris is 10 episodes chocked full of stunning locations, glamorous Patricia Field-styled costumes and all out French bops.
Yes, even the music choices in Emily In Paris are a real chef's kiss moment. Thanks to artists like Kid Francescoli, Sia, Kumisolo and Husbands, the French vibes are truly thriving.
READ MORE: Will there be an Emily In Paris season 2? Here's what we know so far...
Here are all the songs from the Emily In Paris soundtrack
Emily In Paris soundtrack: Episode 1
Chelsea Jade - 'Afterglow'
Kumisolo - 'Ce Soir'
Oliver Charles Horton & Garo Nahoulakian & Bea Parks - 'Summer In Paris'
Stereo Total - 'Lunatique'
Nada Funk - 'Real Good Time'
Juniore - 'Christine'
Barbagallo - 'La Paix'
Emily In Paris soundtrack: Episode 2
KIZ - 'Je suis (Tu hais)'
Husbands - 'Where Is My Ego? (Dim Sum Remix)'
French 79 - 'Lovin' Feeling'
Husbands - 'Dreams'
Ella Harp - 'Time'
The George Kaplan Conspiracy - 'Again'
Nous Non Plus - 'Bunga Bunga'
My Dear - 'Standing In This Dream'
Emily In Paris soundtrack: Episode 3
Juniore - 'Magnifique'
Obliques - 'Big Future'
Kid Francescoli - 'Moon'
Huw Williams - 'Juicy Fruit'
Chevalrex - 'Vers Les Tombes'
Ravages - 'Rouge Soleil'
Emily In Paris soundtrack: Episode 4
Danny Connors - 'Love In Suburbia'
Exsonvaldes & Helena Miquel - 'Cyclop'
Bosco Rogers - 'Banana Socks'
Meaghan Smith - 'Let's Always Stay In Love'
Selectracks - 'L'Amour'
Werner Tautz - 'Mango Tango'
Slove feat. Maud Geffray - 'Ce Soir He M'en Vais'
AMAURY LOUVET - 'Saint Germain'
Cavale - 'Pretty Boy'
Isabelle Pierre - 'Le Tempts Est Bon'
Emily In Paris soundtrack: Episode 5
Muguette - 'Ces Bottes Sont Faites Paur Marcher'
Yumi Zouma - 'Keep It Close To Me (Cyril Hahn Remix)'
La Femme - 'Amour Dans Le Motu'
Art School Girlfriend - 'Driving'
Stereo Total - 'Touche-Moi'
Emily In Paris soundtrack: Episode 6
Selectracks - 'Bien Que Paris Sois Gris
Tele Music - 'Girls Pop'
Emily In Paris soundtrack: Episode 7
Cyril Giroux feat. Chloé Lacan - 'Loin De Toi'
Madonnatron - 'Goodnight Little Empire'
Le Couleur - 'L'amour Le Jour'
Sandor Mihaly Jozsa and Paul James Borg - 'Disco De Paris'
Therapie TAXI feat. Roméo Elvis - 'Hit Sale'
Juniore - 'La Route'
Emily In Paris soundtrack: Episode 8
Nada Funk - 'What's On Your Mind (Unomas Remix)'
Hyperclean - 'Le Zou'
Claire Marcelle - 'Yéyé St Tropez'
Sia - 'Chandelier'
Minuit - 'Paris Tropical'
'Laure Briard' - Une Évasion'
Emily In Paris soundtrack: Episode 9
Eartha Kitt - 'C'est Si Bon'
Electro Dance - 'Let's Go To Work'
Antony And The Johnsons - 'Atrocities'
John and the Volta - 'Bad Dreams'
Emily In Paris soundtrack: Episode 10
Meagan Smith - 'Let's Always Stay In Love'
Selectracks - 'Mes Amis'
AMAURY LOUVET - 'Les parisiennes'
Massimo Guadalupi - 'Paris-Rome'
The Venice Connection - 'Pulse'
Cyril Giroux Feat. Chloé Lacan - 'Je Ne Said Pas Pourquoi'
Cavale - 'Burst Into Flames'
Delphine Volange - 'De Profundis (Ni Fleurs, Ni Couronnes)'
Édith Piaf - 'No je ne regrette rien'