14 Holtzmann Cosplayers Who Ain't Afraid Of No Ghost!
31 October 2016, 17:31 | Updated: 8 May 2017, 17:09
A lot of people were out bustin' ghosts this Halloween...
Among the many Elevens and Harley Quinns hitting the town this past weekend, there was another common costume theme emerging to bust all manner of Halloween ghosts!
Ghostbusters director Paul Feig has been tweeting some of his favourite Halloween costumes inspired by Jillian Holtzmann, the character hilariously played by SNL star Kate Mckinnon.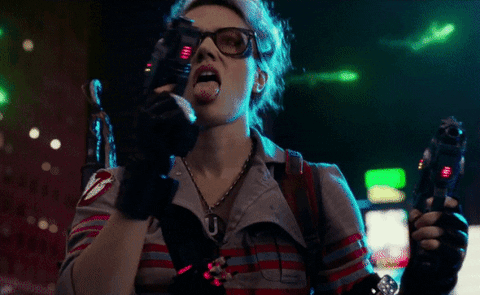 Giphy
The filmmaker was inundated with images of people of all ages who had grabbed the nearest Pringles can, thrown on their finest boots and goggles and built their own proton packs to show their love for one of the summer's most talked about blockbusters.
Holtzmann was the real breakout character of the movie, not only because of her hilarious dialogue and awesome outfit but also her implied sexual orientation, having an openly lesbian character at the forefront of an action movie being a big step in the right direction for mainstream Hollywood.
So, let's take a moment to celebrate and round up a few of our favourite Holtzmann cosplayers that seriously nailed Halloween 2016.
1)
Got my Holtz on last night! Props to my roomie for her hair styling skills + props to @paulfeig for creating Jillian Holtzmann #Ghostbusters pic.twitter.com/tOaTun2kgc

— Err (@sohothescooking) October 30, 2016
2)
@paulfeig @lauriefeig @melissamccarthy @Lesdoggg @NinoMcKinnon #ghostbusters2016 #Ghostbusters #holtzmann pic.twitter.com/geGcQtuPZM

— KT (@poor_dead_ned) October 30, 2016
3)
You try saying no to these salty parabolas @paulfeig #ghostbusters #holtzmann

*disclaimer: they were tortilla chips pic.twitter.com/u6o8RWnDT0

— mercy the witch (@fictionalportal) October 30, 2016
4)
@paulfeig Thanks for helping me see that I'm Ghostbusters material. (also I'm in love with the fact that so many of us are Holtzy this year) pic.twitter.com/0VBrSicRHC

— mr. spooky-eyed (@twentyonelions) October 30, 2016
5)
@paulfeig This year's Halloween is the most fun ever I love GhostBusters!! pic.twitter.com/M6OrnY54y3

— kanao (@ka_7ao) October 30, 2016
6)
@paulfeig A little boy sang the theme song to me as I walked by- made my night! pic.twitter.com/z3gCzjhtGR

— Katie (@KFeels) October 30, 2016
7)
Wishing I could go back in time and tell my ten year old self how much more awesome movies are going to get for women. :) @paulfeig !!!!!!! pic.twitter.com/J4KQSLGtkr

— Erin Snyder (@erinlee55) October 30, 2016
8)
@paulfeig wifey busting ghosts in Canada pic.twitter.com/moR4GxG25m

— Pisstafur Bastard (@pissybastard) October 30, 2016
9)
@paulfeig @Ghostbusters @Lesdoggg @melissamccarthy My tribute to #Holtzmann and the great #KateMcKinnon last night. #Ghostbusters #girlsrule pic.twitter.com/MUTfhR59Le

— LL Cool G (@ninjakitty009) October 30, 2016
10)
@paulfeig Thank you for giving me such a fun character to be, and a costume I didn't have to shave my legs for. pic.twitter.com/yXCYfiMGIt

— Ellis Rother (@ellerovs) October 30, 2016
11)
@paulfeig You've just got Holtzmann'd baby! @Ghostbusters #ghostbustershalloween #KateMcKinnon @melissamccarthy @Lesdoggg #KristenWiig pic.twitter.com/CfWWOM3CxE

— Matthew Ashton (@Disconeedsme) October 30, 2016
12)
@paulfeig Our Ghostbuster costumes! women and men both love this iconic character:). #Ghostbusters #NYCC2016 #NYCC #Holtzmann pic.twitter.com/hROSLMVRwK

— Michael N (@startreksuther1) October 30, 2016
13)
@paulfeig ugh too many salty parabolas thx for the inspiration though! pic.twitter.com/ago98IJvcj

— yulia (@_lithop) October 30, 2016
14)
@paulfeig HAD to show you my son as Holtzmann. He adores her and LOVES being his own version of her in cosplay #Holtzmann #Ghostbusters pic.twitter.com/31YY66G0Mr

— Tara Petar (@TaraPetar) October 30, 2016
These peeps just ain't afraid of no damn ghost!
Giphy
___ ___ ___ ___ ___
Listen to this week's #PopBuzzPodcast featuring The Chainsmokers right here on Soundcloud, or download for free from iTunes to get new episodes sent straight to your phone every Wednesday. You can also find us on AudioBoom or TuneIn - if that's what you're into.