16 Savage Memes Everyone Who's Ever Watched "Grey's Anatomy" Will Understand
9 March 2017, 14:55 | Updated: 8 May 2017, 17:09
"Watch Grey's Anatomy they said; it'll be fun they said."
Grey's Anatomy has officially been round long enough to have its own little sub category in meme culture. And each one is as savage as the next. Can you make it through this list without having an emotional breakdown? We barely made it, tbh.

1) Every single year, Shonda manages to trick you into thinking this season will be different.
watch greys anatomy they said; it'll be fun they said pic.twitter.com/hJpOTUMWrm

— Typical Girl (@SoDamnTrue) July 23, 2016
2) She's lied 13 years in a row.
When I trick myself into thinking nobody is going to get hurt on this season of greys anatomy pic.twitter.com/lsbhfMvt56

— Greys Anatomy (@ItsGreysHumor) March 6, 2016
3) In fact, after 13 seasons you've got your open letter to Shonda Rhimes down to an art.
4) Oh god, remember this episode? *chasing cars plays in the background*
this was one of the most heartbreaking episodes of grey's anatomy pic.twitter.com/zTnUhg9DsP

— Common White Girl (@girlposts) July 20, 2016
5) So many continued years of trauma can really damage a person.
6) But it can also turn you into the world's best fake surgeon with absolutely zero medical experience.
*watches 11 seasons of Greys Anatomy*

person: is there a doctor in here?

me: pic.twitter.com/zZB6Plx6gb

— Common White Girl (@CommonWhiteGirI) October 4, 2015
7) Grey's Anatomy: A Starter Pack
the "i watch Grey's Anatomy" starter pack pic.twitter.com/aXerFDDoxX

— Girl Code (@grilcode) May 19, 2016
8) You know, usually this would be hilarious but the pain and accuracy hurts too much.
9) Every single time someone asks what happened in this week's episode...
when somebody asks for a summary of Greys Anatomy pic.twitter.com/qPceC6VPF3

— Greys Anatomy (@ItsGreysHumor) October 6, 2015
10) If you ever got arrested, this is the exact scenario you'd go to jail for.
result of watching too much greys anatomy pic.twitter.com/ydNHXjDmjj

— on her period (@onherperiod) March 2, 2016
11) You've persuaded all of your friends to start watching the show...
via lostinmygaimagination.tumblr.com
12) And then immediately started fearing for your friendships.
when your friend starts watching Greys Anatomy pic.twitter.com/1kRQ92sHIo

— Girl Code (@reIatabIe) March 4, 2016
13) NO ONE TALK TO ME ABOUT MARK AND LEXIE OK?
I've got 99 problems and like 73 of them would be solved if my favorite Greys Anatomy couples were still together pic.twitter.com/MyuCwGMZ5l

— Greys Anatomy (@ItsGreysHumor) March 8, 2016
14) We've loved and lost so many characters...
via last-bi-in-town.tumblr.com

15) At least we still have Meredith, right?
When you're on the 12th season and they haven't killed you off pic.twitter.com/NdNaxCySl7

— leah (@ferryboatderek) September 1, 2015
16) RIGHT?
me after watching 11 seasons of Greys Anatomy having witnessed a bomb, terrorist attack, plane crash & car accident pic.twitter.com/ENXZy1GjEb

— Greys Anatomy (@ItsGreysHumor) April 15, 2016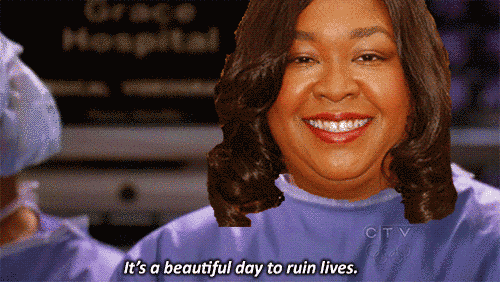 via giphy.com
___ ___ ___ ___ ___
From Brendon Urie to The Vamps, here are the best bits from the #PopBuzzPodcast in 2016. Listen right here or subscribe for free on iTunes to get new episodes sent straight to your phone every Wednesday.