Definitive Proof That The First Harry Potter Film Is The Greatest Christmas Movie Of All Time
15 December 2015, 17:34 | Updated: 26 November 2018, 12:21
There's no place like Christmas at Hogwarts!
Harry Potter and the Philosopher's Stone is legitimately the greatest Christmas movie of all time. Yes, this is a serious statement. And it's a legit one too, we're not like those silly people who keep trying to make Die Hard happen (IT'S NOT GOING TO HAPPEN!). It might not be the most obvious Christmas movie but what encapsulates the magic and wonder of Christmas, more than spending Christmas at the home of wonder and magic? The answer is nothing. Nothing at all. Here's why:
1) It was released at Christmas.
The first movie was released in mid-November 2001. No distant memories of a Summer Blockbuster to moan about - the franchise introduced itself as straight up Christmassy goodness. We can all recall going to the cinema at Christmastime as a kid and emerging 2 hours later full of festive cheer because Harry ~finally~ got a nice present for Christmas. Every Christmas Eve, the first movie you should now reach for is Philosopher's Stone.
2) The Christmas jumpers are on POINT.
Listen, you can promote and stan for Kevin McCallister's sweater game all you like but did Mrs Weasley ever knit him a monogrammed Christmas special? NO. Goodbye, Home Alone.
3) Hogwarts in the snow looks way more Christmassy than all the other Christmas movie houses.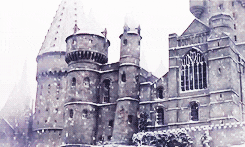 The houses from Deck The Halls? Nah! Whoville? Nope! Christmastown from Nightmare Before Christmas? NOOOOO! Nothing oozes that iconic Christmas vibe more than Hogwarts in the snow. This was just the first in a long line of 'Hogwarts In The Snow-porn' shots that the producers had in line for us to ensure that Harry Potter remains number one in our Christmassy hearts forever.
4) Harry is finally having the best Christmas of his life and honestly, what's more magical than that?!

We all love a great happy ending in our Christmas movies but the story of Harry Potter's Christmas is almost too overwhelming. Just as we're experiencing our first Christmas inside the warm and welcoming walls of Hogwarts, so is Harry. This is a kid who has never had a happy Christmas in his life and here he is, living it up with his best mate, eating a feast and finally opening presents addressed to him. It's a Christmas miracle. We're not crying... YOU'RE CRYING!
5) And it has the most heartwarming and sincere Christmas moment of any movie, EVER.
Forget about anything Buddy the Elf has ever done, if you don't recognise this as the most significant moment in Christmassy cinematic history then there's something wrong with you. *wipes away tear*
6) The Music!!!!!!!!
Official Petition For The Harry Potter Christmas Theme Tune To Become A Christmas *Anthem*.
7) Sassy Christmas Hermione is basically EVERYTHING.
"Happy Christmas!" says Hermione, as she sashays away to catch up on her muggle Christmas TV viewing with suitcase in tow.
MERRY CHRISTMAS, YOU FILTHY MUGGLES!