How To Date Cole Sprouse In 15 Simple Steps
7 June 2017, 13:07 | Updated: 7 June 2017, 13:11
An unofficial scientific sleuth into dating the Sprouse twin that is not Dylan.
We know you've all been wondering... what exactly does one need to do in this world to get a date with Cole Sprouse? Well, after quite an in depth sleuth on his Instagram, we've worked out EXACTLY what it takes to date Cole Sprouse, just for the LOLs.
Check them off as you go, and if you score full marks then congratulations, that means absolutely nothing.
First of all, you should probably be really into having your picture taken for the 'Gram. Snapchat filters are banned obvz.
And you should really hone your appreciation for pictures of old men in their natural habitats.
An appreciation of flowers is key. In fact, it's a must.
A keen interest in Climate Change and sustainable energy resources would be good. Makes for a nice conversation topic, doesn't it?
Make sure you've got a valid drivers license so you can drive Cole to his many deserted photography locations - for which you will be the subject.
But whatever you do, do NOT try to sneak a picture of him.
Part of the deal is that you have to hang out with Cole's almost offensively attractive guy friends like KJ Apa. A real deal breaker.
If you don't like dogs, then you better fix it. Because Cole also likes dogs. And everyone knows the only thing that matters in a relationship is the dog.
Invest in a good pair of hiking boots because it looks like there'll be a lot of walking involved in your weekend activities.
You should probably start working on your rock climbing skills too because there will be a lot of standing and sitting on rocks in this relationship.
You should probably take a few pottery classes before you start dating Cole. Because he did it once too.
Your wardrobe will need to compliment his Jack Dawson from Titanic aesthetic.
You will need to have an appreciation for fine food.
You're going to need to provide a steady camera hand for any unexpected on-screen family reunions.
And of course, you're going to have to be able to tell the difference between Cole and Dylan too.
Now, go forth and date Cole Sprouse, we guess. You're welcome.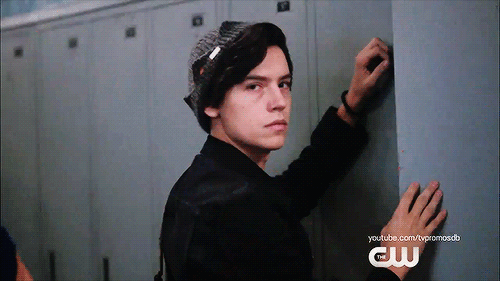 The CW
____ ____ ____ ____ ____
Listen to the #PopBuzzPodcast with All Time Low right here or subscribe for free on iTunes to get new episodes sent straight to your phone every Friday.