27 wild facts about the High School Musical movies that will blow your mind
16 September 2020, 16:39 | Updated: 16 September 2020, 17:10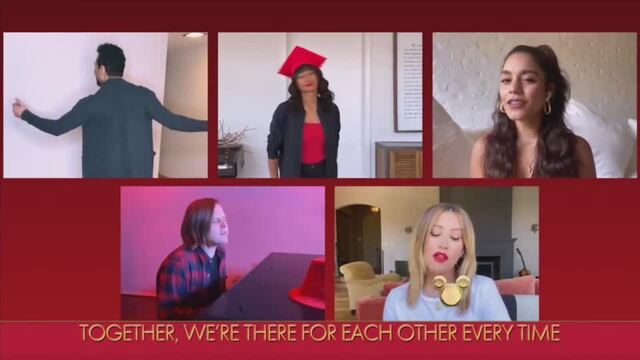 High School Musical cast reunite to sing 'We're All in This Together' in Disney sing-along
Britney Spears and Justin Timberlake were initially supposed to play the leads in the first edition of the script.
Cinema truly peaked as an art form with High School Musical, High School Musical 2 and High School Music 3: Senior Year.
Over the course of three iconic films, High School Musical entertained an entire generation. Not only did fans fall in love with the cast (Zac Efron, Vanessa Hudgens, Ashley Tisdale are all living legends), but they also fell in love with the hilarious script and the undeniable bangers. Name a franchise with songs as brilliant as 'Breaking Free', 'Fabulous' and 'Scream'. I'll wait.
READ MORE: QUIZ: Can you score 9/10 in this High School Musical quiz?
Do you know everything there is to know about the High School Musical movies though? Like all great trilogies, each of the High School Musical films has its own fair share of secrets and trivia that most people don't know. With that in mind, here are 29 of the wildest facts about High School Musical, High School Musical 2 and High School Music 3: Senior Year.
1) High School Musical originated as a Grease 3 script starring Britney Spears and Justin Timberlake.
In 1999, a script for Grease 3 was developed with almost exactly the same plot as High School Musical. However, the leads were supposed to be Danny and Sandy's children played by Britney Spears and Justin Timberlake. Justin's *NSYNC bandmates were also supposed to star in the film alongside Christina Aguilera as the film's Sharpay figure.
The project was shelved though. It was only in 2004 that the producers decided to adapt it into High School Musical with a new cast.
2) High School Musical was never meant to be the title of the film.
High School Musical was originally used as a placeholder title for the film as the producers tried to come up with a different name. They never came up with anything better though so they reluctantly decided to keep it.
3) East High is a real high school in the US.
All three High School Musical films were filmed at East High School in Salt Lake City. Sharpay's pink locker from the movies is still used by students today and fans often visit the campus.
4) Matthew Underwood from Zoey 101 almost played Troy.
Matthew Underwood was offered the role of Troy before Zac Efron. However, he was unable to take the part due to his contract with Nickelodeon.
5) Cassie Steele from Degrassi: The Next Generation was initially cast as Gabriella.
The producers cast Cassie Steele as Gabriella after several auditions and a screen test. However, she had to drop out after filming clashed with her work on season 5 of Degrassi: The Next Generation.
6) Naya Rivera auditioned to play Gabriella.
Naya Rivera was one of the many actresses who auditioned to play Gabriella before Vanessa Hudgens was cast.
7) Ashley Tisdale and Lucas Grabeel originally auditioned to play Gabriella and Troy.
The film's director Kenny Ortega quickly decided that they would both be better fits for Sharpay and Ryan.
8) Corbin Bleu was supposed to audition to play Ryan.
Corbin Bleu changed his mind after seeing Lucas Grabeel nail his audition for the part. In the end, Corbin auditioned to play Chad instead and got the part.
9) Zac Efron didn't sing most of Troy's songs in the first film.
A lot of fans will already know this but Drew Seeley sings most of Troy's songs in the first movie. Zac's voice was too low for many of Troy's songs so Drew, who also auditioned for the part of Troy, recorded the songs instead. He even filled in for Zac on the High School Musical live tour.
However, what fans may not know is that Zac sings the first verse of 'Start of Something New' and the first lyric of 'Breaking Free'. If you listen closely, you can hear the difference between his voice and Drew's.
The songs in High School Musical 2 and High School Musical 3: Senior Year were written with Zac's voice in mind so he sang all of Troy's songs after the original film.
Troy, Gabriella - Breaking Free (From "High School Musical")
10) Zac Efron and Vanessa Hudgens were a real-life couple.
After playing Troy and Gabriella's love story on-screen, Zac Efron and Vanessa Hudgens fell in love in real-life. They dated each other between 2006 and 2010.
11) The school's mascot was initially going to be a leopard.
Later during production, it was changed to a wild cat. 'Leopards, everywhere. Wave your hands up in the air', doesn't have the same ring to it, does it?
12) Coach Bolton and Ms Darbus were originally supposed to have a duet.
Sadly it was never filmed. What could have been!
13) Over 600 teen actors auditioned to be in the movie.
There can be over 600 people in a room but only six lead cast members.
14) The first movie was filmed in 24 days.
High School Musical was filmed quickly on a budget of $4.2 million. At the time, the Disney Channel were not sure if it would be a success or not. The sequel had a budget of $7 million and High School Musical 3 had a budget of $11 million.
15) The cast did two weeks of dance rehearsals before filming.
Petition for more films to invest this much time in choreography.
16) Zac Efron actually trained as a basketball player for the film.
Zac did three hours of basketball training a day to convincingly play a basketball team captain.
17) High School Musical 2 had the most viewers of any Disney Channel original movie.
Over 17.2 million people tuned in to see what would happen in the sequel.
18) It took six days to film the 'Bet On It' dance sequence.
Time well spent.
Troy - Bet On It (From "High School Musical 2")
19) Before filming High School Musical 2, Monique Coleman didn't know how to swim.
Monique learned how to swim for the film and the script was rewritten so that she never had to jump in the pool alone.
20. All of the golf balls in High School Musical 2 are table tennis balls.
This way the cast didn't have to worry about injuring any cast members or damaging any camera equipment when filming the golf scenes.
21) Miley Cyrus has a cameo in the 'All for One' scene in High School Musical 2.
Real ones will be well aware of this but Miley Cyrus can indeed by spotted at the 'All for One' pool party with the rest of the cast.
22) Chad and Ryan switch clothes after singing 'I Don't Dance'.
While the cast and creators never confirmed anything, some High School Musical fans believe that Chad and Ryan switching clothes proves that they had a secret relationship.
23) Kenny Ortega didn't think Disney would let Ryan be openly gay.
Speaking to TMZ, Lucas Grabeel said: "I came up to Kenny one day and was like, 'Hey, so can we talk about the character for a second? Ryan's gay, right?'" He was like, 'Well, I mean, it's a touchy subject sometimes with children's programming — I'm not sure if Disney is ready now for that kind of thing. I absolutely agree that he is and I think we have an opportunity here to showcase a real person."
Kenny Ortega later told Variety: "We decided he's probably going to come out in college. It was less about coming out and just more about letting his true colours come forward." 
24) All of the leads in High School Musical 3 are wearing matching gold rings with red stones.
If you look closely, you can see the custom made High School Musical rings in every scene.
25) Selena Gomez was offered the part of Sharpay's assistant Tiara Gold but turned it down.
Selena Gomez was already busy filming Wizards of Waverly Place at the time so the role went to Jemma McKenzie Brown instead.
26) The Sharpay magazine covers in 'I Want It All' were real Ashley Tisdale magazine covers.
Ashley Tisdale had already appeared on the covers of Teen Magazine and Seventeen Magazine so the props department edited them to feature Sharpay's name instead.
High School Musical 3 - I Want It All (Music Video)
27) High School Musical 3 was originally going to be called Haunted High School Musical.
High School Musical 3 was initially going to be set around Halloween with a spooky script to match. The producers ultimately scrapped the idea though in favour of a graduation theme.