15 Accurate Posts About Your Hogwarts House That'll Make You Say "Me AF"
31 March 2016, 13:38 | Updated: 8 May 2017, 17:09
Tumblr is basically the Sorting Hat, you know that right?
If you are reading this, then there is almost nothing in this world that you take more seriously than your Hogwarts House. These Tumblr posts will literally make you scream "ME AF!" at your screen every. single. time.
1) This is literally you whenever you get into an argument...
2) Ok no but... this one is so accurate it hurts a little bit.
3) Time to face facts Gryffindor Early Birds...
4) Such accuracy! #RavensclawMustBeStopped
5) Tag Yourselves!
6) Slytherin's candle preferences have been EXPOSED and they're so true.
7) Enemies of the Gryffindor, beware!
8) When you miss the train to Hogwarts on September 1...
9) The most accurate and iconic Hogwarts Identity post of our lifetime.
10) Your weaknesses... read. like. a. book!
11) Trueeeeee coloursssss!
12) Oh, Hufflepuff <3
13) Ravenclaws... you witty witty bunch.
14) When you're faced with a locked door...
15) Accuracy Level 100. #DoWhatIsICONIC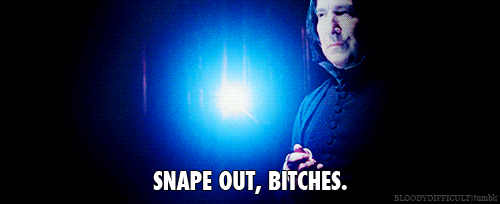 Warner Bros. / via giphy.com