So THIS Is Who Fans Think Will Play Jellybean Jones In Riverdale Season 2
12 June 2017, 14:50 | Updated: 25 June 2017, 22:40
Here's who fans are hoping will complete the Jones clan.
Ever since season 1 of Rivedale wrapped with that monumental cliffhanger, fans of the show have gotten to work speculating on who will round out Jughead Jones' family unit.
When it comes to Mama Jones, fans think that Neve Campbell is perfect for the role. But, when it comes to Jughead's little sis, Jellybean...well, people have THOUGHTS.
In the comics, Jellybean looks like this...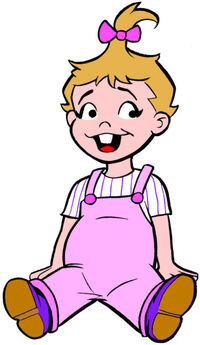 via wikia.archiecomics
But, eagleyed fans may recall a glimpse of JB in a "throwback photo" from season 1 of Riverdale.
via betty-and-jughead.tumblr.com
Jellybean is rocking a bow like her comic counterpart, but that blonde hair now favors raven tresses. Jughead also describes his sister as a 10-year-old who "listens to Pink Floyd on vinyl".
Jellybean will probably be the edgiest 10-year-old on television, so, here's who the internet loves for the role.
Rowan Blanchard
Fans love Rowan for the role, but she happens to be a little older than 10 years old. Rowan is young in the face, but a few people would love to see a slightly aged up Jellybean.
Dafne Keen
via tumblr
Dafne had a role in 2017's Logan. She's a bit closer in age to what Riverdale's Jellybean has been described as. She could definitely pass for FP's kid, so there's a win. The 12-year-old actress is British/Spanish, so she would have to speak in an American accent.
Mackenzie Foy
Mackenzie Foy is another fan favourite for the role. Mackenzie is 16 but looks incredibly young. If they went with an actress like Mackenzie (remember her in Twilight: Breaking Dawn?), Jellybean's age would likely need to be ambiguous.

Cole Sprouse in a wig
Well. We have to give the people what they want.
So, now that we have our top contenders for Jellybean Jones, who do you guys think should play the iconic character?
____ ____ ____ ____ ____
Listen to the #PopBuzzPodcast with GLOW's Alison Brie right here or subscribe for free on iTunes to get new episodes sent straight to your phone every Friday.