20 Facts about The Kissing Booth movies we bet you never even knew
27 July 2020, 12:04 | Updated: 29 July 2020, 07:52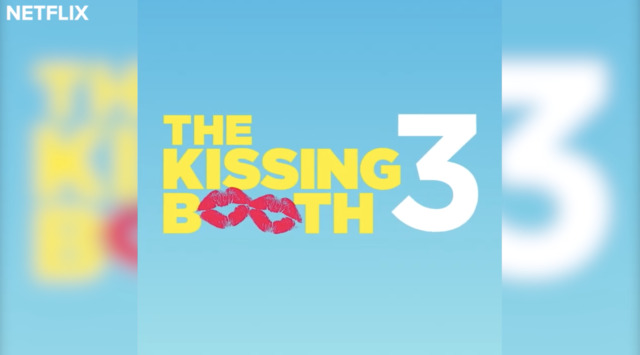 The Kissing Booth 3 confirmed by cast in new video
Did you know? Although it was set in California, The Kissing Booth wasn't even shot in the US.
If you haven't seen Netflix's teen rom-com phenomenon The Kissing Booth yet, you are missing out. Netflix has just dropped The Kissing Booth 2, with a third film to follow in 2021 (it's already been secretly filmed!), and fans cannot get enough.
Since the latest movie dropped on Netflix, the internet has gone mad for the film and its cast. The Kissing Booth stars Joey King and Jacob Elordi (who were in a real life relationship) alongside Joel Courtney, Taylor Zakhar Perez and Maisie Richardson Sellers – and it has catapulted them to another level of stardom.
READ MORE: The Kissing Booth 3 is coming and will be released in 2021
If you're a fan of the film, you've probably watched it at least 3 times by now but we bet you didn't know some of these facts about the cast and the production. Here's a bunch of juicy little nuggets of trivia that you need to know about your favourite Netflix movie:
1) The films were shot in South Africa.
If you thought The Kissing Booth was filmed on location in LA, you would be wrong. While the story is set in a Southern California neighbourhood, both movies were actually shot in South Africa! Yep, Cape Town, SA doubled as the backdrop for LA.
2) But there were a few scenes in the movie that were actually shot in LA.
Author Beth Reekles confirmed on Twitter that several scenes were shot in LA at iconic places like the Santa Monica Pier and Venice Beach. The scene where Elle and Noah visit the iconic Hollywood sign was also shot on location in LA.
3) The guy who does that insane jump from the roof to the pool isn't actually Joel Courtney… it's a stunt double.
Apparently, the Flynn house was so high and the water in the pool was so shallow, production had to bring in a stunt double for Joel Courtney to film that scene.
4) Joel Courtney cracked his chin open on the first day of filming.
Just as well Joel didn't do that swimming pool stunt because he actually split his chin on the very first day of filming the first movie. Joel apparently whacked his chin on the door of the Mustang and had to leave the scene he was shooting and head to the hospital.
5) Joey King threw up after the burger scene.
Remember that scene where Elle and Lee are sitting on the field sharing a burger? Joey King had to film a scene where she plays soccer afterwards and she apparently ate so many burgers that she threw up. She also left her phone recording on the ground while shooting the scene:
.@JoeyKing secretly filmed part of our burger eating scene with her phone on the ground.
Joey says: "I also mayyyy have eaten sooo many burgers while filming this, that I threw up during the next scene I had to film which was of me playing soccer 😂🤢" #TheKissingBooth Netflix pic.twitter.com/cFVUbFc583

— Joel Courtney (@Joel_Courtney) May 28, 2018
6) Jacob Elordi actually learned how to ride a motorcycle for the film.
Unlike Joel Courtney, Jacob Elordi did his own stunts, including riding that motorbike, which he learned to ride on set! Speaking to Just Jared, he said: "On the set of The Kissing Booth, I learned how to ride a motorbike and have been obsessed since. Mum, if you're reading this… I'm buying a motorbike." Noah Flynn's impact, huh?!
7) The film was originally an original story written on Wattpad by then 15-year-old Beth Reekles.
The Kissing Booth won the Most Popular Teen Fiction award on Wattpad and garnered 19 million reads on the site alone. Soon after, Beth was given a three book deal with Random House, eventually leading to news of a Netflix adaptation of the story in early 2017.
8) The Kissing Booth 3 was quietly filmed alongside The Kissing Booth 2
The second film may have only just come out on Netflix, but the cast have revealed that the third movie was quietly filmed during the making of it in South Africa – and we can expect it in 2021. Netflix have already dropped a sneak peek preview of what we can expect...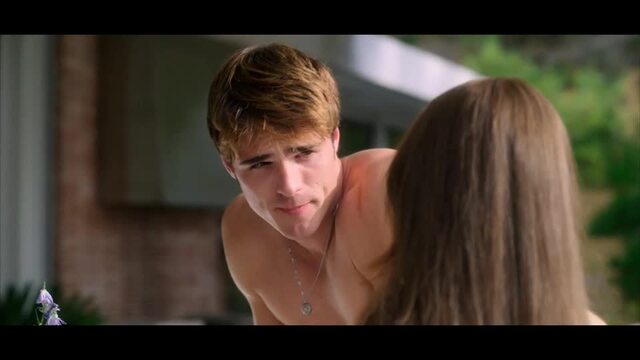 A sneak peek into The Kissing Booth 3 on Netflix
9) Author Beth Reekles had a cheeky cameo in the first movie.
Beth makes a very small on screen appearance in the movie during the costume scene. She's dressed as a flapper in a champagne colour dress and blue feather boa.
10) Elle, Lee and Beth have the same birthday.
Just like JK Rowling, Beth gave her two main characters the same birthday as her.
11) Oh and Noah's birthday is in October, in case you were wondering.
You know... so you can put it in your diary.
His bday's October! I can't remember which date I picked but I wanna say October 5th? Don't quote me on that though lol https://t.co/VJpUjDEDPy

— Beth Reekles (@Reekles) June 6, 2018
12) Joey King and Joel Courtney practised their dancing skills for three hours a day.
Joey and Joel had to practice every damn day to learn how to convincingly pull off two best friends who know their way around the Dance Dance Revolution dance floor.
When asked by Seventeen who the better Flynn brother was, Joey said: "Omg, you can't do this to me! They're both going to kill me. Ok, I'm going to say the better Flynn brother is probably Lee because Elle and Lee have been friends since birth and Lee has always, always been there for her. Noah is amazing, too. He's more of a new thing because now he's just realizing how awesome Elle is, when Lee already knew all along how awesome she was."
14) Joey King and Jacob Elordi were actually dating in real life.
But you already know that, right? The pair met on set in South Africa. Speaking to Seventeen, Joey revealed how their relationship grew from an on-set friendship into an adorable blossoming romance:
"There wasn't one moment. When we first met, me, him, and Joel went out to dinner and we had the best, most fun night ever. By the end of dinner, we had like six inside jokes. We were so close and throughout filming, I was just best friends with Jacob... We were open books with each other. There was nothing we wouldn't talk about. He's just so great. After the first month, I was like, "Hmm, I think I like him."
Unfortunately, they called it quits on their relationship in 2019, but fans are praising them for working so well together on the set of the new movie.
15) When it was first released, The Kissing Booth became one of the most watched movies on Netflix!
According to reports, during an appearance at The Paley Center for Media, Netflix's chief content officer Ted Sarandos, revealed that he believed The Kissing Booth was "one of the most-watched movies in the country, and maybe in the world right now".
16) Joey King wore wigs throughout The Kissing Booth 2
When filming the second movie, Joey had recently been working on another series, The Act, in which she shaved her head for the role. "Ralph" and "Mrs. Fletcher" are the names she gave the wigs. Makeup designer Christa Schoeman named a third "Delilah" as its shape is dedicated to Elle's look from the first film.
17) Taylor Zahkar Perez had no idea what movie franchise he was auditioning to join
It may be his feature film debut, but when auditioning for The Kissing Booth 2, Taylor Zahkar Perez had no idea what franchise he was trying to get a part in.
The script was secretly named to auditionees as "Untitled Vince Marcello Project" and all of the characters names had been changed ("Noah" became "Ashton"). Of course, Taylor landed the role after his instant chemistry with Joey King.
18) Joey King never auditioned to play Elle
Speaking about wanting the role, Joey said: "I remember when I read the script for The Kissing Booth I called my reps and said, 'When can I audition?' They were like 'Oh, the part's been offered to you', and I was like 'No way'. The fact that I was believed in from the start just set a tone where I felt confident. I was also able to believe in myself because the material was so good, and the company I was keeping was so wonderful."
19) The Kissing Booth 2 is Joey King's first film where she also served as an executive producer
"I remember in a marketing meeting, we were on the phone and they were asking Joey's opinions," said the film's director, producer and co-writer, Vince Marcello. "And Joey says, 'Well, I am the demographic of this movie, so what I believe — ' and she just went, boom! She was delivering these really insightful, constructive ideas. I actually got emotional as I was listening because I was like, Oh my God. She sounds like a producer. She has that in her DNA and we're going to watch her blossom even more." Are we looking at the next big name in Hollywood production?
20) Taylor Zakhar Perez was not a guitar player before playing Marco
In fact, around the six-hour scheduled dance rehearsals for the movie, he spent three hours a day learning how to play guitar across two whole months.
"It was nerve-racking because in every scene I'm performing in front of extras", he said. But it would appear it helped him to overcome stage fright as the DDM competition employed 2,000 extras, the Halloween mixer 250 extras, and 120 more for his beachside busking scenes.
The Kissing Booth's Joey King sparks romance rumours with Taylor Zakhar Perez