26 glorious pics of the Mamma Mia 2 boys that'll make you sweat
7 August 2018, 15:51 | Updated: 4 June 2021, 18:11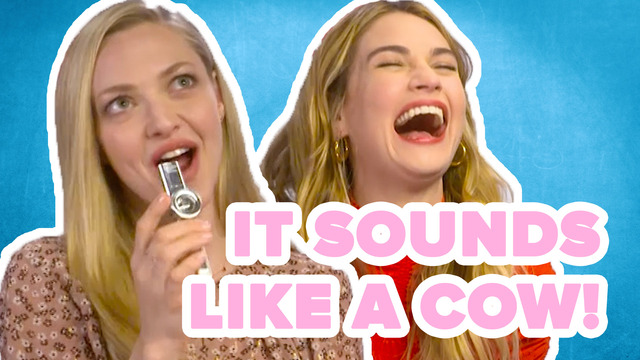 Mamma Mia! 2's Amanda Seyfried And Lily James Try To Play ABBA Songs On A Kazoo
Josh Dylan, Jeremy Irvine and Hugh Skinner have stolen the hearts of the entire planet - on screen and off.
Mamma Mia: Here We Go Again has taken the world by storm since it dropped into our lives and the love from the internet hasn't let up since. From Lily James' absolutely stellar performance as a young Donna Sheridan to Cher's now legendary rendition of ABBA's 'Fernando', fans are still obsessing over the sequel to 2008's box-office smash.
'Mamma Mia 2': The Best Memes About The Film
But the one thing that everyone has been losing it over the most is the performances by the new cast members who play the younger versions of the adults in the movie. Jessica Keenan Wynn, Alexa Davies, Jeremy Irvine, Josh Dylan and Hugh Skinner have stolen the show as young Tanya, Rosie, Sam, Bill and Harry and fans have fallen in love with them both on-screen and off. Particularly the boys, or... the Dynabros as they are now affectionately known.
In case you didn't know, the cast shared their ENTIRE experience shooting the film in Croatia on Instagram and the pictures are TRULY something. Here's a bunch of lovely snaps of your three new boyfriends (and their cast-mates) to help you cope:
1) I'm about ready to press charges against Jeremy Irvine's jawline.
2) Josh and Jeremy! The time has come! For you to lipsync! Each other's songs from Mamma Mia 2!
3) I'm sorry but they REALLY nailed the casting of Harry when they gave the role to Hugh Skinner. So pure, so soft.
4) Here's a video of Jeremy massaging Josh. You're welcome.
5) Please also enjoy all three Dynabros in the tub together after a long press day.
6) Josh's bum is out in this picture.
7) Josh, Jeremy and Hugh doing the Lord's work.
8) SQUAD!
9) Josh and Hugh with the OG Bill Anderson, Stellan Skarsgård.
10) What's this? Oh, it's just the lads on tour...
11) ORIGINAL SAM AND YOUNG SAM, TOGETHER AT LAST.
12) We love two (2) Bill Andersons.
13) I've never wanted to be Lily James more than right here, on this boat, in this picture.
14) Scratch that, I've never wanted to be Lily James more than right here, in THIS picture.
15) SCRATCH THAT AGAIN. I'VE NEVER WANTED TO BE LILY JAMES MORE THA---- you get the idea.
16) All the young cast members (sans Lily James) getting ready for rehearsal.
17) Young Tanya, young Harry and young Bill is the ultimate squad.
18) How much would you pay to spend an hour on a fake jetty in a studio with Hugh and Josh?
19) Ok but this is PRECIOUS.
20) Nothing to see here, just the Dynabros on their way to steal your heart.
21) Tag yourself, I'm Alexa in the bottom right corner.
22) Project this on my gravestone please x
23) LADIES... THEY CAN COOK!
24) Josh's twerk? I'm filing a legal complaint as we speak.
25) Josh Dylan in flip flops and Hugh Skinner in double denim. God bless.
26) And they're Love Island fans? ICONS!