13 Actors Who Were Definitely Not The Age They Played On TV
13 July 2017, 11:24 | Updated: 18 January 2018, 16:20
Did they pull it off?
If you're anything like us, you've definitely been a fan of television your whole life. While we're constantly reeled in by teen dramas, we have never failed to realize how much Hollywood likes to cast way older people as teens. It's still pretty rare that an actual teen will play a fictional teen on television, but sometimes it's just impossible to ignore the blatant age difference between an actor and their character.
1) Christian Navarro (aka Tony from 13 Reasons Why)
via Netflix/13 Reasons Why
2017 was the year that fans became obsessed with 13 Reasons Why, its characters, and the actors who played them. Christian Navarro is a fan favourite on the show, adding some real depth to the role of 17-year-old Tony. In reality, Navarro was 24/25 while filming the show's first season and, we'll be honest, it shows. He did a great job as Tony but no one pegged him for 17.


2) Ben McKenzie (aka Ryan Atwood from The O.C.)
via FOX/The O.C.
In the early 2000s, it was totally normal for an actor to be a solid decade older than the character they played on television. Born in 1978, Ben McKenzie landed the role of 16-year-old Ryan Atwood when he was actually 25. We loved the O.C. but Ryan Atwood always stuck out like a sore thumb.


3) Hilarie Burton (aka Peyton Sawyer from One Tree Hill)


via CW/One Tree Hill
Despite being able to pull off the moody teen trope quite well, Hilarie Burton was a smooth 21 when she landed the role of 16-year-old Peyton Sawyer. Five years may not seem like a huge stretch, but Hilarie had already embarked on a career as an MTV VJ by the time she landed the part. She was great in the role but certainly would have been more believable as a college student.


4) Dianna Agron (aka Quinn Fabray from Glee)
via FOX/Glee
Dianna Agron was poised, put together, and about 7 years older than her character in the first season of Glee. Sure, Dianna was fresh-faced and youthful when she played Quinn, but no one would have mistook the young actress for a teen.


5) Ross Butler (aka Reggie Mantle on Riverdale)
via CW/Riverdale
Ross Butler played fun loving and occasionally dopey Reggie Mantle. It's unclear how old Reggie is supposed to be (15-17 seems to be the general consensus) but 26-year-old Ross certainly stands out, especially alongside a 19-year-old KJ Apa.
6) Will Smith (aka Will Smith from The Fresh Prince of Bel Air)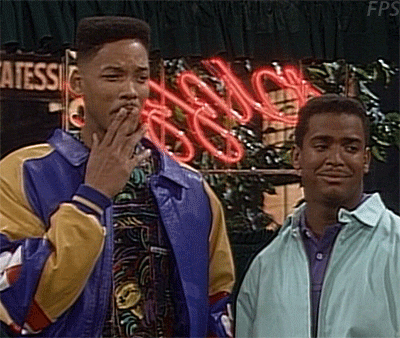 via NBC/Fresh Prince of Bel Air
Will Smith landed the role of Will Smith in 1990 when he was 22. The fictional Will was meant to be in his mid-teens but the real Will looked to be well in his 20s. Smith was tall, had facial hair, and was extremely broad shouldered, even for his age. Nope, we never bought Will Smith as a 16-year-old on the show. Sorry, Will!


7) Keegan Allen (aka Toby Cavanaugh on Pretty Little Liars)
via Freeform/Pretty Little Liars
Keegan Allen played Spencer Hastings' love interest on Pretty Little Liars. Despite his boyish haircut and dreamy eyes, Keegan was fully legal when he took on the role of Toby Cavanaugh. Keegan was 21 playing a 16-year-old when he first appeared in PLL season 1 and that jawline is serving me early 20s realness.


8) Crystal Reed (aka Allison Argent on Teen Wolf)
via MTV/Teen Wolf
Did you ever wonder why Allison Argent looked so grown-up and distinctly adultish on Teen Wolf? That's because she was a full blown 26-year-old playing a high school student on the MTV supernatural drama. Yes we love the alliterative Allison Argent buuuut, big sis does not look 16.



9) Tom Welling (aka Clark Kent on Smallville)
via CW/Smallville
Smallville followed the life of a high school aged Clark Kent (Superman) and ran for a full decade (2001-2011). When Tom Welling first took on the role, he was a 24-year-old playing 14-years-old and we're still scratching our heads at this. Perhaps his earth age didn't properly reflect his Krypton age, BUT STILL.
10) Paul Wesley (aka Stefan Salvatore on The Vampire Diaries)
via CW/Vampire Diaries
Stefan Salvatore was made a vampire when he was 17-years-old. That means that dear sweet Paul Wesley was supposed to look 17 and STAY looking 17 for all of the show. It's a hard ask, especially considering the fact that Paul was 27 when the show first aired in 2009. Vampire Diaries ended in 2017 (Paul is 34 now) which meant that he was around 33 years old and still playing a 17-year-old in the last season. The wonders never cease.
11) Jessica Stroup (aka Erin Silver on 90210)
via CW/90210
Jessica Stroup was only 22 when 90210 first aired on the CW, but she was still a hard sell for 16. Of course, none of the characters had parental supervision on that show, so it was difficult to picture them as teens anyway. Her edgy style on the show, combined with the fact that Jessica looked like a person in their early to mid 20s, made this high school drama just a liiiiitle far fetched.

12) Emilia Clarke (aka Daenerys Targaryen from Game of Thrones)
via HBO/Game of Thrones
Emilia Clarke as Daenerys Targaryen may seem pretty innocuous but the actress was 25 when audiences first saw her onscreen as the 15-year-old mother of dragons. Interestingly enough, the character of Daenarys was 13-years-old in the original books, but HBO producers bumped her age up because of all the explicit scenes featured on the show.

13) Bianca Lawson (aka Maya from Pretty Little Liars)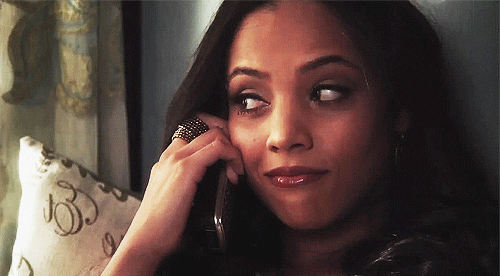 via Freeform/Pretty Little Liars
Bianca Lawson is the most infamous actress for being able to play way younger than her actual age. Bianca was born in 1979 and has been playing a teen on tv since 1993. In 2010 she appeared in the first season of Pretty Little Liars as Maya, a love interest to Emily Fields. Her real age at the time? 31. No, that's not a smudge on your screen. Bianca Lawson has been playing a teen for over 20 years and was a full 31-year-old playing 17 on national television.