On My Block Season 2: Release Date, Cast, Trailers, And Everything You Need To Know
13 April 2018, 16:55
'On My Block', Netflix's dramedy about a group of friends living in an inner-city neighbourhood, has captivated audiences. Has Netflix renewed 'On My Block' and what can fans expect in season 2?
Netflix only dropped On My Block in early March, but fans have been eager for Netflix to announce a second season. With its emotional cliffhanger and completely lovable characters, viewers can now rest easy because Netflix is bringing back On My Block for season 2.
It's official. On My Block will return and put us out of our cliffhanger misery. Netflix tweeted the news on Friday, April 13 and confirmed that your favourite characters will be back for another season on the streaming platform.
Fair warning: If you haven't finished On My Block season 1, this article DOES contain spoilers.
via Netflix/On My Block
Has On My Block been renewed? When will On My Block season 2 premiere?
As of April 13, On My Block has officially been renewed for a second season by Netflix!
me up all night waiting to tell you that @OnMyBlockTv is coming back for season 2 pic.twitter.com/Jy54ZPwRmn

— Netflix US (@netflix) April 13, 2018
That's the good news.
The production reality news is that fans will likely have to wait 12-15 months to see how things turn out for the kids. But, do not fret, my Blockheads. We will keep you updated on all the behind-the-scenes goodness that is sure to come our way.
Will Ruby and Olivia be in On My Block season 2
When we last left our heroes, things were not looking too good for Ruby and Olivia. We know the two were injured at Olivia's Quince, but it's unclear whether they will succumb to their injuries or survive.
Fan theories have suggested that both of the characters cannot survive, so there is a chance we may have to come to terms with one of our favourite characters dying.
"This [kind of tragedy] happens every day," one of the show's co-creators, Eddie Gonzalez, told Thrillist. "We were just depicting real life." This commitment to realism also points to the possibility of one character dying and the other living.
That said, if OMB kill off a character and go the 13 Reasons Why route, we could see flashbacks, visions, and other creative storytelling that includes the actors who play Ruby (Jason Genao) and Olivia (Ronni Hawk).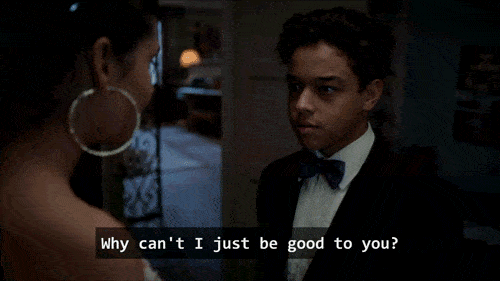 via Netflix/wherever-i-look.com

On My Block season 2 plot?
Based on how we left things in season one, On My Block's second season will likely revolve around the other characters coping with the shooting.
Cesar's guilt over sparing Latrelle could potentially drive a wedge between him and Monse. It could also drive him further into his brother's gang. Of course, Jamal discovering the Rollerworld money will have big season 2 implications.
Are there trailers for On My Block season 2?
Netflix has renewed On My Block but filming is not yet under way and there are no trailers.