'Pettywise' Is Now A Meme And It's The Most Savage Thing You'll Ever See
21 September 2017, 14:49 | Updated: 21 September 2017, 14:53
Turns out the dancing clown's most effective way of hurting you is with words.
By now, you will all be well aware of the evil, child-eating, dancing clown known as Pennywise, star of the film It.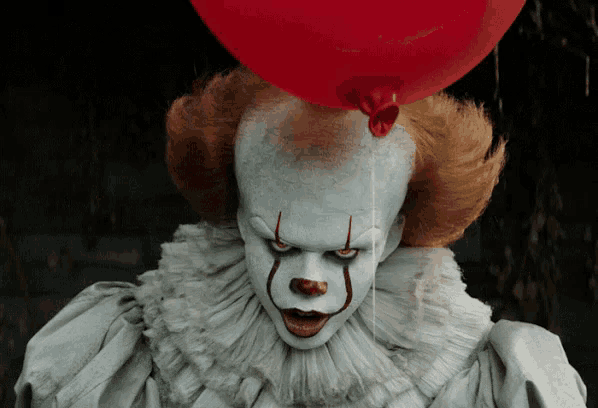 Warner Bros
Yeah, that guy.
Pennywise has clearly become a popular figure in 2017 with Halloween set to be dominated by clown costumes and praise heaped upon Bill Skarsgård's incredible performance and IRL cheekbones (seriously, you could cut cheese on that jawline. Impressive work).
But watch out Pennywise, because there is another even more savage clown coming for your crown hunty...
Her name is Pettywise!
themanicpationofmemes
Oh damn! That is a low blow right there. Somebody call an ambulance for Bill 'cos he just got a serious BURRRNNN.
Turns out a lot of people have noticed the rise of Pettywise and, honestly, they are kinda here for it:
Pennywise? More like PETTYwise. He snatched Billy's edges and left him SHOOK pic.twitter.com/NYyUZNHAgN

— Christian (@chrisasaurus_) September 21, 2017
when pennywise said "i'm not real enough for you? it was real enough for georgie" i was like damn alright PETTYwise that was uncalled for

— caitlin (@marveljedi) September 20, 2017
"im pettywise, bitch. everybody petty down here."

— shyanne pepper (@shyannecasper) September 17, 2017
I should start calling people Pettywise, since you're all clowns...

— Sah (@saruhhh_x) September 19, 2017
Hi kids!! My name is Pettywise The Clown!!!!!!!!!!!

I feed off

Twitter drama

— VOLCANO ARSCHGEWEIH (@kimmouto) September 11, 2017
pennywise? more like pettywise, i'm here to be shady hoe

— sunny (@SUNSHlNES_) September 11, 2017
Pettywise, the judgemental clown #ItMovie2017 pic.twitter.com/BJoU2pp3E2

— Kitty Wap (@govtfatcat) September 10, 2017
A real messy bitch who lives for the drama.
So, with the sequel apparently on the way in 2019, maybe we could have a subplot where Pennywise takes on Pettywise in a lip sync for your life? Come on, you know it makes sense.
Giphy
Cluck cluck Pennies.
It is in cinemas worldwide now. A sequel, tentatively titled It: Chapter Two is rumoured for release in 2019.