'Pickle Rick' Is The 'Rick & Morty' Meme You're About To Be Obsessed With
10 August 2017, 17:03
The breakout star of 'Rick & Morty's third season has inspired some truly crazy activity online.
Rick & Morty fans will already be aware of the multitude of ridiculous characters the pair have encountered across their travels. But in this week's episode, the audience was introduced to maybe the weirdest one yet.
We are talking, of course, about Pickle Rick.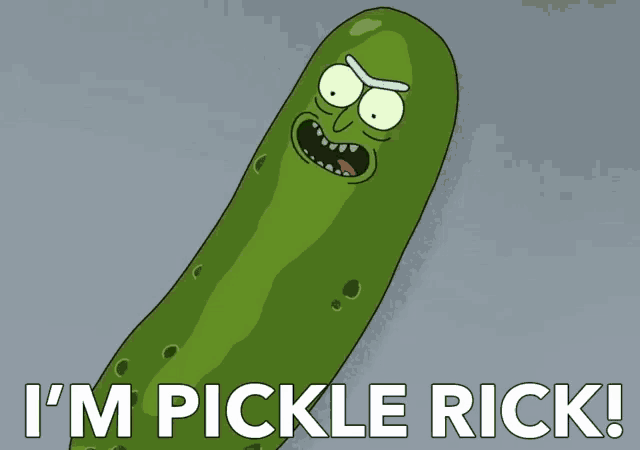 Adult Swim
Yes, Rick managed to turn himself into a pickle and, basically, things got surprisingly dark incredibly quickly...
Fans of the show have not only gone wild for the character onscreen, they have taken to the internet and shown their love in all manner of meme-related ways. Here are just a few of our fave online reactions to the mighty Pickle Rick:
1) The Walking Dead decided to indulge in some cross-promotion:
Now that we live in a world where Pickle Rick from #RickAndMorty exists, we made this exist: pic.twitter.com/nuCrxdfRQU

— The Walking Dead (@TheWalkingDead) August 8, 2017
2) Does it taste of cake or pickles though?
Pickle Rick bday cake for my friend... @RickandMorty #RickAndMorty #PickleRick pic.twitter.com/C0bWC5qzs1

— Mylo Shift (@MyloShift) August 8, 2017
3) Oh Ted. He's never gonna get it is he?
Wow, Pickle Rick. My girls would love it. In fact, the first sentence Caroline ever said was "I like Pickle Rick" pic.twitter.com/ri8M3bKCED

— loller rick (@BasedLoller3) August 9, 2017
4) Someone needs to make this into a real Snapchat filter asap.
Who would win?

Pickle Rick or Dancing Hot Dog pic.twitter.com/BzBmgQM3fZ

— Boosh (@alex_buscemi) August 9, 2017
5) This craft beer came with a sneaky hidden shoutout:
Have you seen this @RickandMorty ??? It's on my El Gose from @AveryBrewingCo !! #PickleRick pic.twitter.com/pDVLEolovz

— chelsea klinginsmith (@KlingoftheNorth) August 10, 2017
6) Let's put a smile on that pickle:
Let's have some fun in honour of @rickandmorty Pickle Rick. let's put him in all types of movie posters and tag #imapickleposter I'll start pic.twitter.com/SP6saQpOjM

— BossLogic (@Bosslogic) August 9, 2017
7) Somebody send this guy a vat of schezuchan sauce. He deserves it:
Yo @adultswim @RickandMorty my cousin got a Pickle Rick tattoo for your season 3 premiere #RickandMorty #picklerick pic.twitter.com/Rldbpandmb

— KG (@GottaGueta) July 31, 2017
8) He's going IRL!
Our garden's going strong. Pickle Rick in the making. @RickandMorty @JustinRoiland @danharmon pic.twitter.com/TKVu8wAfzr

— Aud (@auderpops) July 30, 2017
9) Worth every penny.
We sold a pickle tonight signed by the cast of Rick and Morty for $100. pic.twitter.com/Hy3KoCaU5J

— madd (@maddswaggler) July 27, 2017
10) Is it even a meme until Spongebob gets involved?
Not Sure if Anyone Thought of these yet, but...I'm Pickle Rick! #PickleRick #RickAndMorty #AdultSwim #Spongebob #Nick pic.twitter.com/FFjP3VGqUf

— Lane Eugene Andrew (@Lane_Andrew6873) July 26, 2017
11) Rugrats just got meta too:
Tumblr, Schwifty Memes
12) 10/10 would read:
Tumblr, Schwifty Memes
13) Yes. We. Can.
Tumblr, sweetcandypill
14) Coming to steal your man:
Tumblr, Schwifty Memes
15) Will there be a parable at the end of this?
Tumblr, meeseeks-and-destroyed
16) Mind. Blown.
Tumblr, slickdoggo