19 Times The Cast Of "Riverdale" Hung Out IRL And Made You Die Of Happiness
22 March 2017, 13:06 | Updated: 8 May 2017, 17:09
When will your faves?
There's only been two TV casts in the history of TV casts that have reduced us to screaming, crying, hardcore stanning fan girls. The first one was the cast of Stranger Things - obviously. And the second is undoubtably the cast of Riverdale. If you haven't tuned into Riverdale yet, then you probably should before we kidnap the cast and force them to be our friends.
And if you don't fall in love with at least ONE of them by the end of this article then there's probably something wrong with you, tbh.
1) When almost the whole squad got in formation for this fire selfie and you fell in love with everyone except Alice Cooper because she's a snake.
Riverdale Instagram
2) When someone asked Cole and KJ who has the best hair on the show and their answer made you choke on actual air.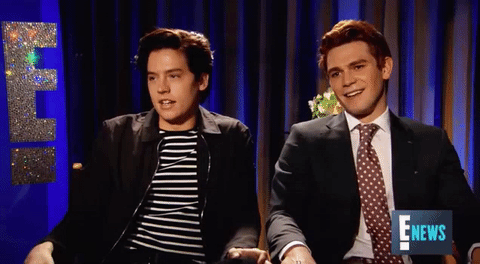 E! News
3) When Lili, KJ and Ashleigh took the cutest ride on a golf cart and showed you what it REALLY meant to be squad goals.
Ashleigh Murray, KJ Apa and Lili Reinhart (via lilireinhart snapchat) #RiverdaleSDCC pic.twitter.com/ETj5qTTf7x

— KJ-APA•COM (@kjapacom) July 24, 2016
4) When Lili, Camila and Ashleigh brought Beronica to life and we all flat-lined for 25 minutes.
5) But also, when Lili and Cole made real life Bughead a thing and we suddenly found ourselves weeping in the middle of the street.
6) And when she asked him the questions we all wanted to know.
7) When Betty and Veronica channelled their inner Hilary Duff and you realised nothing else in this world mattered more than their vocals.
8) When Madelaine and Cole were watching Lili and Camila on Seth Myers talking about The Suite Life Of Zack And Cody and you felt like a proud parent.
#VIDEO Posté par @madelainepetsch sur Snapchat avec @colesprouse pic.twitter.com/MubBgIoNo5

— Cole Sprouse France (@SprouseColeFR) January 27, 2017
9) When Cole and KJ appeared on The CW's snapchat and caused you severe heart palpitations.
The #Riverdale cast is on @TheCW's snapchat! @kj_apa @colesprouse pic.twitter.com/OvyITz6J3w

— Riverdale (@RiverdaleTheCW) May 25, 2016
10) When Ashleigh, Hayley and Asha posed for the cutest squad pic in the history of squad pics and a tear fell from the corner of your eye.
11) And then they harmonised the sh*t out of this song in their trailer and suddenly your debts were cleared.
12) When Asha joined Camila for a quick rendition of Beyonce's All Night and it moved you so much you had to take the rest of the day off.
13) When Lili and Camila kept roasting KJ with 'Overheards' on Twitter and you gagged with laughter.
KJ: *reads email* "what does obligational mean?"
Cole: "means you have to do something"
KJ: "shit that sucks"

— Lili Reinhart (@lilireinhart) January 19, 2017
"Isn't Lizzie McGuire a make-up brand?" - @kj_apa

— Camila Mendes (@CamilaMendes) October 12, 2016
14) And then he roasted his own tweets and you just couldn't handle the sheer joy in his face.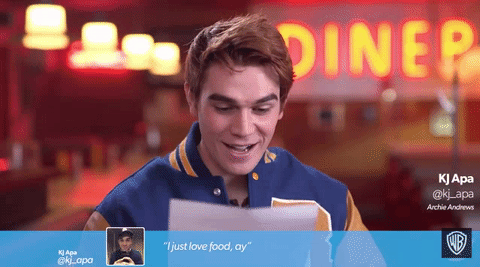 Warner Bros.
15) When Lili and Camila did a Q&A and someone called her daddy and you couldn't help but nod your head in agreement.
14) When Cole did a face swap with Camila on Snapchat and you realised their babies would high-key look like Kris Jenner.
.@kj_apa sendo a @CamilaMendes no snapchat! Melhor vídeo HAHAHA pic.twitter.com/mmWferlzbs

— KJ Apa Brasil (@KJApaBrasil) July 30, 2016
15) And then Camila did a face swap with KJ that you will never be able to unsee.
me + @kj_apa = Tarzan pic.twitter.com/g7OoOI5rwF

— Camila Mendes (@CamilaMendes) July 30, 2016
16) When Lili got to spend the day with Cole AND Dylan and you started cursing the universe for not allowing you to experience that emotion.
17) When the whole squad turned it out for another group selfie and you let out a little squeal.
18) When Lili and Camila channelled Leo DiCaprio in The Revenant and you convinced yourself that he should probably just hand over the Oscar to them like, right now.
19) And finally, this entire photoshoot... which has already replenished your crops, cleared your skin and given you 20/20 vision.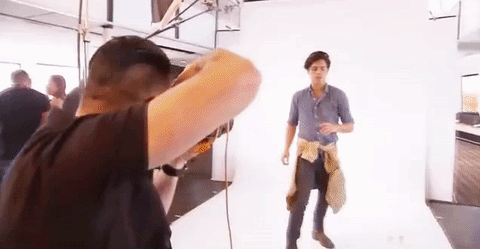 via youtube.com