Riverdale Let Down Fans With Its Lackluster LGBTQ+ Representation
4 May 2017, 17:21 | Updated: 8 May 2017, 17:09
Will writers do better in season 2?
Like any CW show, Riverdale brings together an exceedingly young and good looking cast, a dash of intrigue, and more ships than you can shake a stick at. But Riverdale has one big failing that threatens to topple its carefully crafted house of cards.
From the erasure of a canonically asexual Jughead to Kevin Keller being written as a one dimensional gay best friend, Riverdale lets fans down by betraying its own instincts for this "modern retelling" of the Archie comics.
via tumblr
There has been a lot of talk about whether the show is guilty of queerbaiting when it comes to Betty and Veronica. The pair share a kiss in episode 1 that serves very little purpose in advancing the plot and, so far, does not seem to lead anywhere other than into the arms of Jughead and Archie.
Camila Mendes herself has admitted that the kiss was a "way to get Cheryl's attention", further illuminating the entirely performative nature of the Betty/Veronica arc.
For a lot of viewers who identify as gay or bisexual, their attractions aren't about "getting attention". The flimsy episode flashpoint holds no water as Veronica's presumed bisexuality is never truly acknowledged at any point in the season.
via teen.com
Similarly, Kevin Keller, the gay son of the sheriff, is a particularly one dimensional archetype.
For instance, when Betty first introduces Veronica to Kevin, the dialogue is...painful.
Betty: "Veronica Lodge, Kevin Keller. Veronica is new here, Kevin is --"
Veronica: "Gay. Thank god, let's be best friends."
via tumblr
We see very little of Kevin (he is not a member of the "core four") and hear even less from him. Sometimes he is on screen literally so one of the main characters can ask him where another character is.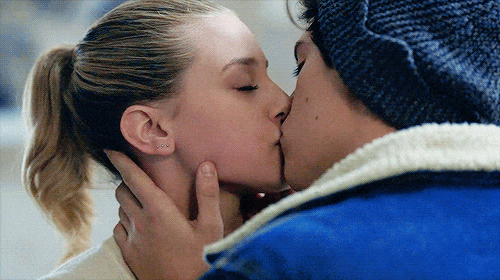 The issue of Jughead's sexuality definitely hit a nerve with fans throughout the season. Showrunner Roberto Aguirre-Sacasa explained the decision to make Jughead straight by musing that Riverdale was an origin story for these characters.
"The way we're treating Riverdale, especially Season 1, is it's an origin story. [...] For instance, we're not going to start with Archie's band or Jughead's asexuality or any of the things that have become canon — those are all stops on the way to the journey until the show catches up to 75 years of Archie history."
While this is a perfectly reasonable explanation, Jughead hasn't been given any nuance that suggests he is a character trying to discover where he falls on the spectrum of sexuality. Asexual characters are rarely represented in mainstream television, Jughead's erasure feels especially poignant because we know he is a canonically non-binary character.
Has Riverdale let fans down in its portrayal of gay, bisexual, and asexual characters? Yes.
But ultimately, we hope that Riverdale can do better. It's a show with enormous potential and a chance to write complex and good characters who identify across the sexual spectrum.
The fanbase are smart and interested in this representation and Riverdale has the capacity to deliver.
____ ____ ____ ____ ____
Listen to the #PopBuzzPodcast with Chris Pratt and the rest of the Guardians Of The Galaxy Vol 2 cast right here or subscribe for free on iTunes to get new episodes sent straight to your phone every Friday.