73 Thoughts You DEFINITELY Had While Watching The "Riverdale" Premiere
12 October 2017, 15:32 | Updated: 13 October 2017, 11:01
WHAT JUST HAPPENED?!
Unless you've been living under a rock, you'll know that season two of Riverdale kicked off last night. And boy, was it stressful. If you haven't watched it yet, you're in luck because we did and we had a LOT of thoughts... thoughts that probably crossed your minds too.
***SPOILERS AHEAD***
1) Alright, we're starting with a recap to ease us in. Honestly, if Fred Andrews dies, I'm not watching any more.
2) Hermione has a raging hangover. Sis, we've all been there.
3) Alice Cooper is already up and sipping tea, scrolling through whatever drama is kicking off on the Riverdale Register message boards. A legend.
4) Oh, Betty went home instead of staying at Jughead's? Alright then.
5) Drive a little smoother Archie, for f*ck sake! We can't afford to lose Luke Perry. Not today.
6) Oh christ, it's gonna be a nightmare to wash out all that blood. It's bloody everywhere.
7) There literally must be a trail of Fred's blood from Pop's to the hospital.
8) SOMEONE CALL MEREDITH GREY STAT. WE'VE GOT A 40 YEAR OLD MALE, GUN SHOT WOUND TO THE ABDOMEN. PREPARE OR 2.
9) Wait, hang on... Why does this graduation scene look like the end of High School Musical 3?
10) I'm literally on the edge of my seat waiting for Archie to start busting out the lyrics to the acoustic "We're All In This Together."
The CW
11) WHY DOES THAT SHOOTER LOOK SO MUCH LIKE CLIFFORD BLOSSOM!?!??!?!??!?!
12) Let's get real for a second - is Clifford *really* dead? What if he faked his death? (Of course he is, don't be stupid.)
13) Sorry but I can't be fuck with people who drink glasses of milk. I can't, It's gross. Sorry Alice.
14) "BLOCK HIM TOO!"
15) Serious inquiry: Where do I file a request for Mama Coop to come and be my love life coach? She's like Dua Lipa but better.
The CW
16) VERONICA DRINKING CRISTAL MIMOSAS AT 9AM IS THE KIND OF EXTRA I ASPIRE TO.
17) Wait so... Archie called Betty? But then Betty called Veronica? Why didn't Archie call Veronica - his girlfriend - first? Fuccboi, m8.
18) You know what would look reaaaaal nice to go with that bike of yours, Juggie? The leather Serpents Jacket you got given last night. Just sayin'.
19) Ohhhhhh, he is definitely gonna have to have that cast on his wrist re-set. What a massive inconvenience.
20) WHY DIDN'T THE AMBULANCE COME? Are there budget cuts in Riverdale? Are the emergency services in on this?! I trust no one.
22) Ohhhh, fuck off Hal.
23) "I can't handle this." Way to make it about you, Veronica.
24) OH HEEEEEELL NO ARCHIBALD. WE ARE NOT SAYING GOODBYE TO FRED TODAY.
25) Sheriff Keller can choke if he thinks he's about to frame the serpents for this. Do your research m8. This investigation is a mess.
26) Who the FUCK remembers the colour of someones eyes?! Archie was standing a mile away from the gun man? Wasn't he?
27) Alright, I know I'm not the only one thinking this: What is the drug Jingle-Jangle when it's at home?
28) Honestly, why does Veronica talk like she's just walked out of Dickens novel?
29) Archie Andrews: cancelled for using the word "Bro".
30) DR MASTERS BETTER FIX UP AND GET FRED BREATHING ON HIS OWN OR HE WILL BE CATCHING THESE HANDS.
31) Oh, there's gotta be some clues in Fred's bag of personal belongings. SURELY.
32) I literally forgot Archie had a dog.
The CW
33) Why are they walking the dog? With blood on his shirt? TAKE A SHOWER ARCHIE.
34) And how has he got blood on his shirt but not on his skin? The blood literally stops at the edge of his t-shirt.
35) Ooooh, I wonder if we can see Sabrina over there on the other side of the river?
36) OH HERE WE GO. This is the bit in the promo trailer that we all freaked out about a few weeks ago.
37) Veronica is about to risk it ALL to be with Archie Andrews in the shower. And I would be lying if said I didn't wanna do the same thing.
38) Serious question: Are you meant to get your cast wet? Is that against doctors orders?
39) Steamy shower sex in the first fifteen minutes? AND showing everyone how to conserve water? YES RIVERDALE.
The CW
40) Literally anyone: "Hi--" Betty: "JUGHEAD AND I HAVEN'T HAD SEX YET. THANK YOU FOR ASKING."
41) CHERRRRYYLLLLLLL!!!!!!!!
42) Oh my god, that sherpa jacket is RUINED. *sobs*
43) Surely all Fred's clothes are evidence, right? Why did they give them back? This investigation is still a MESS.
44) Archie is on ONE. He's paranoid as f*ck.
45) DID VERONICA TAKE THE WALLET? THAT SNAK--- Oh, no, she didn't, never mind. As you were.
46) This police line up just looks like a bunch of old white guys who are really into Twenty One Pilots.
47) Ummm, when did Jughead suddenly learn to ride a motorbike? Where did FP's bike even come from? He's been driving a truck?! I thought y'all were poor?
48) Veronica, please stop saying Daddy. Please. I beg you.
49) Can't tell if I'm terrified or just weirdly attracted to Hermione Lodge when she's being scary like that.
50) YESSSSSS NEW REGGIE. HE CAN GET IT. Everyone on this show can get it, tbh.
The CW
51) 30 seconds of screen time and Melody still didn't get a fucking line.
52) WHAT?! Fred was shot like, 5 hours ago... How is Pop's not a crime scene? I've watched enough episodes of Criminal Minds to know they should be dusting for finger prints!
52) "Are you hungry?" No tea, no shade Pop but I think you should clean up the blood first. This would absolutely NOT pass the health and safety tests.
53) JUGHEAD HAMBURGER KLAXON! *KILL BILL SIRENS*
The CW
54) Betty calling out Jughead's motorbike bullshit. Here for it.
55) She ran in to the fire to get a family portrait?? What about her own mother?! Penelope, PLEASE get your priorities in check.
56) DID PENELOPE KILL CLIFFORD AND SET IT UP TO LOOK LIKE A SUICIDE?!
57) If the main mystery of this season is gonna be Fred's wallet then I'm logging off right now.
58) WHOAAAAAA, what is Cheryl doing kissing Fred Andrews on the forehead?! I'm concerned. This is weird.
59) The best part of this episode is the fact that Fred's imagination couldn't conjure up an *actual* vicar to marry Veronica and Archie.
60) FRED'S ALIVE!!!!!! HE'S OFF THE VENTILATOR. EVERYBODY CALM DOWN.
61) Now is not the time to joking about guns, Betty. Fuck sake!
62) Has there been a power cut in Riverdale? What's going on with all these flickering candles? Are the Lodges no longer allowed to be seen in natural sunlight or fluorescent lighting?
63) Hiram Lodge is the one TRUE Daddy of Riverdale. We have decided to stan.
The CW
64) OH MY GOD WAIT IS THAT MISS GRUNDY'S CAR?????? WHAT DOES SHE WANT?
65) DOES MISS GRUNDY LIVE IN GREENDALE? WITH SABRINA?!
66) IS THAT BETTY'S BROTHER???? Oh, no... he's the kid from the Drive In.
67) She's gonna kiss him isn't she? She's up to her old tricks. How is she not in jail?
68) Who opened the window? GUYS, WHO OPENED THE WINDOW?
69) OH MY GOD.
70) HE KILLED GRUNDY!!
71) WHAT THE FUCK JUST HAPPENED?!
72) Alright, the guy HAS to be her ex-husband. It has to be! Why would he kill her?!
73) Whoever it was, it's what she deserves.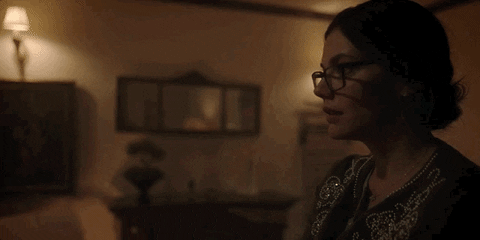 The CW