Selling Sunset: Every celebrity home bought or sold on the show
11 August 2020, 14:53 | Updated: 24 November 2021, 21:23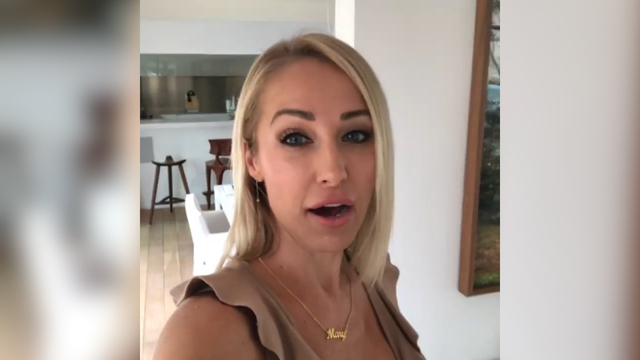 Selling Sunset's Mary gives tour of Orlando Bloom's $9m Hollywood home
Selling Sunset season 3 has landed, and the houses are bigger and better than ever. But who do they belong to? Here's every celebrity client of The Oppenheim Group, along with their properties you may recognise from the show.
Whether you're in it for the drama or the luxury properties, everyone is hooked on Selling Sunset right now. And with season 3 fresh on our Netflix homepages, we're back to our usual browsing of The Oppenheim Group's website working out which homes from the season have sold.
Spoiler alert: Davina is still clinging onto that $75 million listing.
When we're given the on-screen grand tours of the incredible homes that the agents are selling, the word NDA gets thrown around a lot. If you're not familiar, an NDA is a non-disclosure agreement, and during the process of a high-profile celebrity or wealthy client purchasing or selling a home, the agent isn't allowed to discuss the details of who it is.
Fortunately for us, those A-Listers who were previously kept under wraps during the show have since come forward to show off their plush new pads, and you'll recognise a lot of them from the previous three series. We're impressed that the girls kept their cool selling Orlando Bloom's house.
Here's whose homes have been through the Selling Sunset gang...
READ MORE: QUIZ: Build your dream home and we'll reveal which Selling Sunset agent you are
Ellen DeGeneres
While we didn't get to see this particular house on the show (due to it being purchased in 2018), Ellen Degeneres purchased what was described by Jason and Brett as "the best house in LA" for a cool $40million via The Oppenheim Group.
Situated across over two acres (12,000 square feet) and a neighbour of the infamous PlayBoy Mansion, it has nine bedrooms and eight bathrooms, and the talk-show host managed to snap it up before it even hit the market. That's some tasty commission right there.
Orlando Bloom
Remember the house with the sunken living room? Yep, the four-bedroom, four-bathroom property situated on Billionaire's Row actually belongs to Orlando Bloom.
Costing $8,999,000, we got a glimpse of the property back in the first season of the show, and footage has since emerged of Mary Fitzgerald giving us the grand tour.
In the video, we get a sneak peak of the zero-edge pool, the indoor-outdoor living potential, and you get both city and ocean views. Orlando is not included in the price unfortunately, but we can only assume he's selling the property to upgrade as he marries and welcomes his new baby with Katy Perry.
Tom and Lisa Belyeu
You may not have heard of super-wealthy couple Tom and Lisa Belyeu, but you've definitely heard of the $40million house that the team were frantically trying to sell across season two.
As Jason announced he'd sold it in season three (for a $1.2million commission), we found out that the proud new owners were the YouTuber and his partner, who are also the co-founders of food company, Quest Nutrition.
In the show, Jason declined to name them, but described them as "a very wealthy" and "impressive" young couple, however, Variety reported them as the new owners as early as December.
The news has also seemingly been confirmed, as Lisa herself posted a snap on Instagram by the wrap-around pool.
As one of the most luxurious projects The Oppenheim Group had taken on, the Hollywood Hills mansion includes more than 20,000 square feet of living space, five bedrooms, nine bathrooms, a 15-car garage, an infinity pool and four hot tubs.
We'll take it.
Dakota Johnson
While it wasn't in the show, if you're an avid fan of looking at homes that are way out of your league, you'll recognise Dakota Johnson's mid-century home from the cover of Architectural Digest magazine.
Purchased from The Oppenheim Group in 2017, the super-tranquil Hollywood Hills home is a more paired-back celebrity purchase with just three bedrooms, and a generous city lights view. Of course it come with its own pool, outdoor entertaining area and security measures, because how else does it get its $3 million value?
If you want to see inside, we'll let Dakota give you the grand tour...
Inside Dakota Johnson's Serene Hollywood Home | Open Door | Architectural Digest
Sean Rad
One of Jason and Mary's many co-listings from the show, the $10 million Doheny Drive property that doubled up as Mary's wedding venue, was being sold by Tinder founder Sean Rad.
The stunning Georgian-style five-bedroom house, which Mary toured with clients on her wedding day, has its own guest house, as well as the standard pool, chef's kitchen and walk-in wardrobes. It sold for almost $1.5million more than what Sean paid for it originally, and was bought by musician Benny Blanco.
Chloë Grace Moretz
Back in 2016 (and aged just 19 at the time) actress Chloë Grace Moretz closed on a deal with The Oppenheim Group for what is described as a "very large" and gated house in the Hollywood Hills.
In an interview with The Real Deal magazine, Jason Oppenheim described the transaction: "She has been great. I've been working with her and her family, an unbelievably thoughtful and easy-going family. They've been very responsive. They are also very sophisticated, which makes my job easier."
Nicole Scherzinger
The Pussycat Dolls lead, Nicole Scherzinger, purchased a bachelorette pad back in 2016 which she still lives in now. The $2.9million cliff-edge home has four bedrooms, a wine cellar and home cinema.
It's also set across four floors, and has a priceless view.
Take a look around for yourself...
Inside Nicole Scherzinger's LA House with a Cozy Home Theater | Open Door | Architectural Digest
Selling Sunset is available to stream on Netflix now.
READ MORE: Christine Quinn's wedding: Inside the lavish ceremony