Selling Sunset's Jason Oppenheim denies Mary and Romain's wedding was fake
27 August 2020, 18:00 | Updated: 24 November 2021, 21:24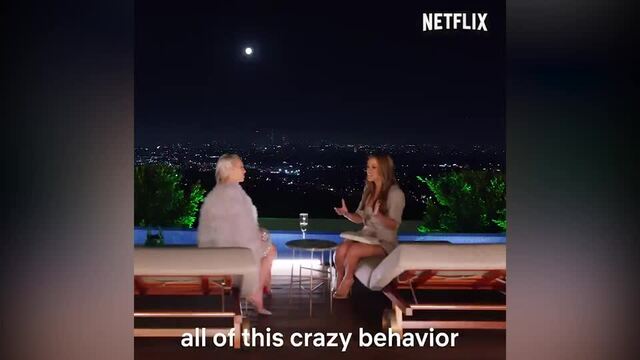 Selling Sunset Season 3 Trailer
PopBuzz sat down with Selling Sunset's Jason Oppenheim to discuss just how much of what we see is real, the $75million house and exactly why everyone hates Oppenheim Wines.
Following the success of Selling Sunset's third season on Netflix, we sat down with President and founder of The Oppenheim Group, Jason Oppenheim, to get the low-down on what it really takes to make one of the most successful reality shows in the world.
Jason (along with brother, Brett), took over The Oppenheim Group back in 2007 after five generations of their family had been running the brokerage. 
Today, he's handling over $300million of active listings, and buying and selling homes on behalf of the likes of Orlando Bloom, Meryl Streep, and Ellen DeGeneres. 
From unfinished business at Christine's wedding to what we can expect from season 4 and *that* not-so-loved wine, we're asking the internet's most burning questions to the one person that can answer them.

READ MORE: Selling Sunset's Jason Oppenheim says Brett has NOT left the group
You've previously mentioned that the show isn't what you thought you were signing up for - how do you feel now that it's become so successful? 
"I didn't know what to expect. I got some comments taken out of context previously when I said I wouldn't have done the show. More accurately, I love the fact that I did the show, and I'm extremely proud of it. I think at the time, I would've not been as comfortable with all of the drama and that involvement in our personal lives. The fear of the unknown is the best way of describing it."

Did you think about being trolled or being accused of faking it? 
"Of course there's little comments that, if anything, are flattering. When people are questioning whether we're a real brokerage, and whether the agents are real, it's a compliment.
"Even the most simple research would show everything is real. It's just amusing if anything. It doesn't take someone long to go on the California Department of Real Estate and look it up. We have 75 years of combined experience. We have team photos of us years ago before the show...people need to do some research."

But didn't Mary and Romain get married two years before the show?
"Mary and Romain never had a second wedding. Their wedding was on the show. They did a technical courthouse wedding, but the actual wedding with their family and friends was on the show. I don't think that's that uncommon." 
What about the stories about Brett leaving The Oppenheim Group? Will we see that on the show?
"That story isn't quite as interesting as people like to make it out to be. Brett moving was more of a semantic change, for liability purposes more than anything. He's not starting his own brokerage, bringing on agents or competing - we still work together all the time. Maybe we'll include it in future seasons but it's not exciting."

So, it isn't to do with your personal relationship?
"It's not personal at all. We're best friends, I was just talking to him five minutes ago. I'm sure that would make for great TV, but it's simply not the case."

You've previously mentioned that the show has convinced hundreds of people to quit their jobs and try to break into the industry. What would your advice be to them? 
"The cameras edit out this stuff *Mary comes in*...the boring stuff. We're just typing away. Watching us working 10-hour days just being on the phone and driving around town...it all gets edited out.
"I would strongly encourage people not to interpret this condensed and glamorised version of our lives as the reality. If it was this easy, everyone would be doing it. If you could walk into The Oppenheim Group and all of a sudden you're this beautiful, well-dressed, wealthy, successful person, there'd be a million people lined up outside. We've all had a lot of difficulties in our lives and we've really worked hard and any indication otherwise is misleading."
Let's talk about your other venture...Oppenheim Wines...why does everyone hate it so much?
"First of all, the wine is good. Chrishell started hating on the wine and it became a running joke. It's nothing personal though, it's not like I'm out there stomping grapes, my buddy has wine in Napa Valley. Chrishell, respectfully, knows her wine, and I respect her opinion on it...she's not a big fan."

Wine and real estate don't generally go hand-in-hand. Do you have any other venture you're thinking of going into?
"Absolutely. I even thought about doing something else but my family talked me out of it. I would like to open a store...I even have my eye on one. I'd like to sell old books, antiques. I'd like to have the walls covered in books like a library with a ladder.
"I'd love to just meet and talk to people...I'm not sure I'd actually be able to sell anything, but it would be more like a gallery. The Oppenheim Library...that would be cool. From a business perspective, it's probably stupid...but it'd be like the coolest man cave of all time."
That's certainly more chilled-out than real estate. Speaking of which, what's going on with the $75million house? How does Adnan feel about you publicly calling it overpriced? 
"I don't think it would sell at $75million regardless of my comments. It's still for sale if you have anyone looking."

I don't, sorry. 
"I know Davina and I got into it on the show, and we each have strong opinions, but no one can take away the fact that she brought in one of the biggest listings this brokerage has ever seen. Whether she sells it or not, there's not a lot of people that can get a $75million listing - overpriced or not."

How do you feel that people are trolling Davina off the back of season three? 
"I think it's unfair. Davina has an honesty about her that might rub people the wrong way, but I think that Davina is a very impressive woman. I consider her a friend and I think that if people got to know her, they would see a side of her they appreciated and liked very much. 
"To those who have been trolling her...I think you should be careful not to judge people based on a couple minutes or even a few hours of seeing someone on TV."
Totally. Apart from the $75million listing, which is your favourite house?
"I love the $40million house that I sold. It's exceptional, and I'm not sure there's another house that compares. But I really loved the house Mary sold on her wedding day [on Doheny Drive]. 
"Rarely do I find a home that I'm jealous of, and that I actually want to buy - and that's one of the top five homes I've ever seen in terms of where I could see myself living.
"When I was first in real estate, I used to be drawn in by the "white shiny box" but much less so now. I have a much more refined palette now, and love a timeless house." 
Season 3 of Selling Sunset is streaming on Netflix now.