"Stranger Things" Season 2: Cast, Plot, Trailer And Everything You Need To Know
23 July 2017, 10:19 | Updated: 23 July 2017, 10:26
Spoilers, new characters and everything you need to know about Netflix's best show of all time.
UPDATE 23/7/17:
The first official full length trailer for Stranger Things season 2 has arrived and it's bloody THRILLING and it's all Will Byers' fault.
Ya boi looks like he's having some troubling psychological problems, Nancy's got a gun now, the boys have gone full Ghostbuster and precious baby Eleven is trying to bust her way out of the Upside Down like that scene from Alien where the alien bursts thr--- well, you catch our drift.
Watch the full trailer below for yourselves and try not to lose your sh*t:
Darkness falls across the land… Here is the first trailer for #StrangerThings2. pic.twitter.com/534mDf1Os2

— Stranger Things (@Stranger_Things) July 22, 2017
What will happen in the storyline?
Netflix

Speaking in an interview with Emmy Magazine, the kids revealed a few details about the plot and honestly, it's going to be nothing like we expected. For a start, it's going to 10 times more scarier than the first season. Finn Wolfhard (Mike) revealed that season two is a "lot more horror-oriented."
"I think this season will be a lot more dark... I think people are going to like it more than the first season. There are going to be some challenges that the characters face that are real. That are disturbing." We mean, the first scene alone in season one gave us nightmares for weeks so if he's talking jumpy moments, we're preparing ourselves for a pant-pooping session as we type.
Charlie Heaton, who plays the third wheeling Jonathan Byers, hinted to Esquire UK that there could be some romance on the horizon for is character and Mike's sister Nancy Wheeler, who we last saw in the arms of Steve Harrington.
When asked about whether or not we would finally get to see the pair get together as a couple, he gave a pretty coy answer: "We'll have to wait to see... They went through a lot together last season... "
Yes. Yes they did. So, we'll take that as a YES then, Charlie? #NanathanWillRise
Netflix
When will it be released?
Netflix / via giphy.com
Stock up on your Eggo waffles, kids! Despite the first season dropping in July 2016, the second season will be returning to Netflix on Friday October 27th. Can you believe we have to wait THAT long until we find out what the hell happened to Eleven after she confronted the Demogorgon?! The show itself will take place on Halloween. Here's a picture of the boys in their apt '84 Halloween costumes.
Netflix

How many episodes will there be?

Netflix
There will be nine episodes in the second season - one more than the first. And the episodes will be titled: 'Madmax', 'The Boy Who Came Back To Life', 'The Pumpkin Patch', 'The Palace', 'The Storm', 'The Pollywog', 'The Secret Cabin', 'The Brain', 'The Lost Brother'. Uuuhhhhh... who is the Lost Brother?! Who is coming back to life!? What is The Pollywog!? *cold sweat emoji*

Are all the actors returning for the second season?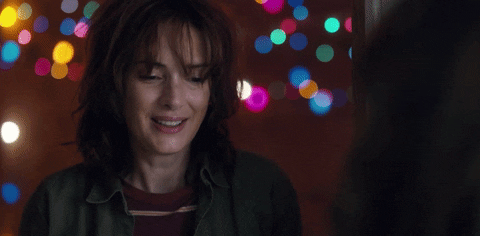 Netflix / via giphy.com
Yes! All your faves will be returning. Winona Ryder and David Harbour will reprise their roles as Joyce Byers and Chief Hopper. Noah Schnapp, Gaten Matarazzo, Caleb McLaughlin and Finn Wolfhard are all coming back, along with Millie Bobby Brown. As for Shannon Purser as Barb? We'll see... but things aren't looking promising.
Will there be any new characters?

Netflix
YES! In fact, there's four new characters heading our way in season two - one of them is Max, pictured above on the right. The Lost Brother has gotta be one of them, right? It better not be another Demogorgon. Seriously. According to the Duffer brothers, "there's going to be a lot of new and interesting dynamics that we didn't see in season 1." Exciting!
Sean Astin (The Goonies) will be joining the show as Joyce Byers' new boyfriend so look away now if your OTP is Joyce and Hopper...
Will season two up pick from where it left off?

Netflix / via giphy.com
Nope, season two will be set one year in the future - in 1984. The Duffer brothers have previously stated that they wanted the kids to grow with the series - like Harry Potter - and that would mean pushing timelines along to fit with their IRL appearances. At least we're keeping the gang all together... and getting some new 80's movie references!
The time jump also means there'll be alot of drama surrounding the events of the last year. On the Fan2Sea cruise, David Harbour spilled all the details: "It's a year later in the story, so there are several things that happened last year — like Will has come back — there are certain people in the town that know what happened, and then certain people that don't know what happened. So there's a lot of fall out with who knows what."
Will we see more of the Upside Down?

Netflix
Uh, yeaaaaah! "We kinda just peeled back the curtain and revealed a tiny bit of the Upside Down," says Matt. "So we definitely want to explore a little bit more. There's a lot we don't know about the Upside Down at the end of season 1." There's also a brand new monster heading to Hawkins and it makes the Demogorgon look like a freakin' Chihuahua. #SHOOK
What classic 80's movie references will they make?
Netflix / via giphy.com
Season one had a heavy Steven Spielberg and Stephen King influence but season 2 will try to emulate James Cameron's tactic of making sequels that stay true to the original yet bring enough originality to make them stand out. We can expect some heavy Ghostbusters vibes too - it looks like boys have gone as the foursome for Halloween at school.

Will there be #JusticeForBarb?

Netflix / via giphy.com
Season 2 will be about dealing with the repercussions of what happened in Season one, so Barb will not be forgotten but will she survive? No, is the short answer. "Barb is fully dead!" says Harbour. FFS.
If you haven't yet binge watched the first season of Stranger Things, do it NOW. See you on Halloween 2017.
____ ____ ____ ____ ____
Listen to the #PopBuzzPodcast with Tom Holland and Zendaya right here or subscribe for free on iTunes to get new episodes sent straight to your phone every Friday.