11 Superhero TV Shows You Should Binge Watch When You're Not Fighting Crime
23 March 2016, 15:32 | Updated: 8 May 2017, 17:09
Thirsty for Superheroes? These are the biggest and best TV shows you should binge watch right now!
Caught the Superhero bug yet? We have. Between the trailer for Civil War and the release of Batman vs. Superman, we imagine you're all itching for more low-key superhero action? Guess what? We gotchu! Here are 11 of the must watch superhero TV shows out there right now...
Just don't @ us when you find yourself 8 episodes deep in a Netflix binge, ok?
1) Agents Of S.H.I.E.L.D.
Seasons: Renewed for Season 4
For those that like: Mainstream Marvel Universe and Phil Coulson's face, tbh.
If you're a massive fan of the Marvel franchise and you haven't already seen S.H.I.E.L.D. then this is show for you. It got off to a rocky start but soon settled into a format that provided backstories and context for many of the plot holes in the movie universe.
2) Agent Carter
Seasons: 2 - awaiting renewal from ABC.
For those who like: Captain America's vintage aesthetic; badass, stylish, strong female leads and also, Chad Michael Murray.
You may have seen gifs of this show pop up once or twice on your Tumblr dash - that's because it's AMAZING. The show provides a space to explore Peggy's role in the male-dominated world and much like S.H.I.E.L.D, it gives a platform to some lesser known characters from the Marvel Universe.
3) Supergirl
Seasons: 1.
For those who like: Superhero TV shows with a bit of heart... but also a lot of action.
New show with big potential. Get on it now before it's too late! The first season follows Kara Zor-El's beginnings, and how she learns to embrace her powers. It won the People's Choice for Best New TV Drama so that's always a good sign. And it helps that Melissa Benoist is a literal gift from heaven.
4) Arrow
Seasons: Renewed for Season 5.
For those who like: Angsty ships (and shipwrecks) and again, a superhero story with a bit of heart.

There's not a day that goes by where my Tumblr dash hasn't been flooded by Arrow fans. The CW's Arrow is a completely new depiction from the Smallville version. As the King Pin in the 'Arrowverse', it's already spawned two spin-offs and provides plenty of opportunity for crossovers. Be warned: this show LIVES for major character deaths. :(
5) The Flash
Seasons: Renewed for Season 3
For those who like: Sweet Prince Grant Gustin, time travel (wah) and just really really really good Superhero content.
The Flash first appeared on Arrow, which led to this spin off which is HIGH KEY the best Superhero show on TV right now. It's exactly what you'd expect from the comic books, while serving up a great back story and a great sense of humour. WATCH IT.
6) Legends Of Tomorrow
Seasons: Renewed for Season 2.
For those who like: ALL THE SUPERHEROES!
The second spin off from Arrow combines the successes and characters of the first two shows only on a much MUCH bigger scale. It's still early days yet which means there's still time to iron out what isn't working but the promise and potential of the show is HUGE. Also, time to claim your fave low-key superhero before everyone else arrives.
7) Jessica Jones
Seasons: Renewed for Season 2.
For those who like: Dark and twisty narratives, evil villains and obviously, the most badass female leads ever.
Unless you've been living under a rock for the past 3 months, chances are that you'll have already seen this brilliant show. If you haven't... then you better. It follows Jessica's life after Superhero-ing (?!) and it's much darker and serious than any of the shows on this list. TL;DR - IT'S REALLY GOOD!
8) Heroes Reborn
Seasons: 1
For those who like: The original Heroes series.
Heroes Reborn was a limited mini-series that aired last year. It aired as a continuation from the original series featuring many of the original characters joining forces with the freshly discovered 'Evolved Humans' or 'Evos'. So if you're a fan of original superhero stories, this is for you.
9) Heroes
Seasons: 4.
For those who like: Unsuspecting humans who have really weird superpowers. REAL LIFE YO!
If you didn't catch this first time around, do us a favour... Watch Season 1 at least. You, as a Superhero enthusiast, owe it to yourself.
10) Daredevil
Seasons: Season 2 available on Netflix now.
For those who like: Violence and dark and twisty superheroes.
First of all, there's no need to worry - it's better than the Ben Affleck movie. Its success and tone paved the way for Jessica Jones, so that's already a good sign, right?! It follows the same story as the movie, except it's good. It's gritty, it's violent and it's dark - exactly what we've been missing from the Superhero TV genre.
11) Gotham
Seasons: Renewed for Season 3.
For those who like: The untold stories of major DC Superhero movies and the life and times of good ol' Commissioner Gordon.
The crime drama was originally intended to tell Gordon's backstory but was later adapted to tell the origin stories of many well known DC villains such as the Penguin, the Joker and Catwoman - to name a few. It follows Gordon's journey up the ranks of the police department, his involvement with the Gotham City Mafia, and his influence in Bruce Wayne's life.
Oh, and if you're feeling REAAAAALLY nostalgic, rewatch Smallville. A little Superman never hurt anybody, did it?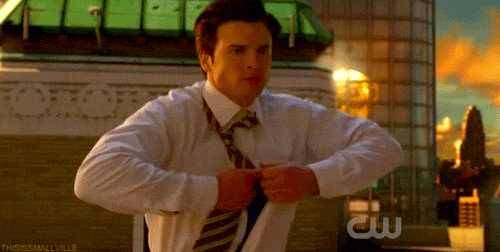 via giphy.com