12 Scream-Worthy Facts About "Scream Queens" You Probably Never Even Knew
5 September 2016, 21:24 | Updated: 8 May 2017, 17:09
Have you ever noticed how the sorority mansion is actually Blair Waldorf's NYC penthouse?!
The second season of "Scream Queens" is literally DAYS away and we can barely contain ourselves. In fact, we're not sure we're even over the first season yet! If you're as obsessed with the show as we are, then you're going to DIE when you read these little known facts about the show. Hurry up, Chanel... we're waiting!

1) The show probably wouldn't have ever gone to air if Jamie Lee Curtis had said 'no' to Ryan Murphy.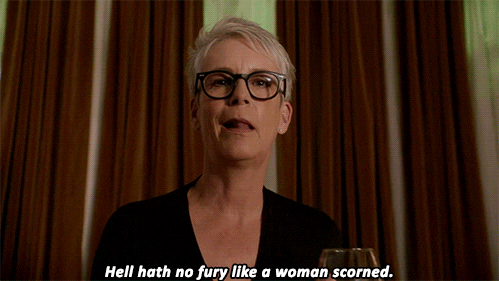 FOX / via giphy.com
Murphy asked to meet with original scream queen Jamie Lee Curtis, who he was a MASSIVE fan of. He had no script, only a skeleton of a story and basically told JLC that he wasn't doing the show unless she was on board. She thankfully accepted. A show was born!
2) "Scream Queens" was ~almost~ a spin-off of "American Horror Story: Coven."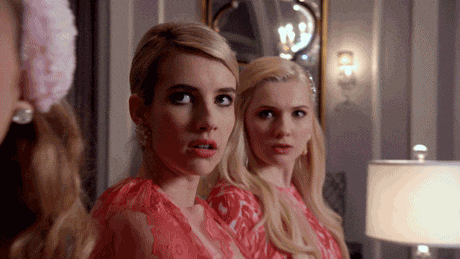 FOX / via giphy.com
Yep. The vibe changed after Murphy sat down with the FOX execs to discuss much more broader Hollywood horror inspirations, such as teen and slasher movies. But yeah, if you ever wondered why SQ and Coven have the same vibe... there's your answer!
3) Chanel #3's mum IRL played Princess Leia in Star Wars - which explains her penchant for those insane earmuffs.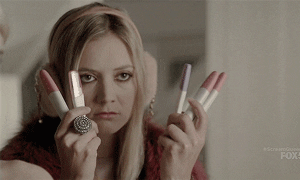 FOX / via giphy.com
In case you didn't know, Queen Carrie Fisher is Billie Lourd's mother and the earmuffs are a cute lil' homage to her mother's iconic character. In the season finale, Chanel #3 can be seen actually rocking Leia buns instead of her signature earmuffs.
4) Jamie Lee Curtis also paid a pretty damn iconic homage to her IRL mother in the show too.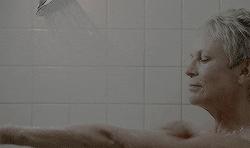 FOX / via giphy.com
Remember that scene in the classic horror movie "Psycho", where the lady gets attacked in the shower? That's Janet Leigh, Jamie's mother. And she plays out the exact scene, shot for shot, in the eight episode of the season. (Except Dean Munsch doesn't die. Obvz)
5) Chanel Oberlin was inspired by an email from a real life Sorority Queen that went viral a couple of years ago.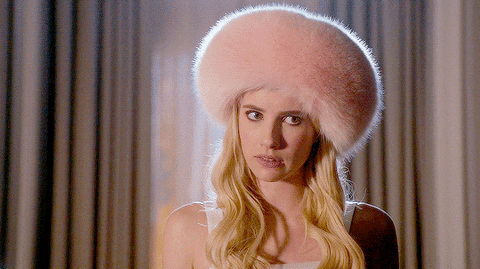 FOX / via giphy.com
Emma Roberts' character was inspired by an email from the executive board of the Delta Gamma sorority at the University of Maryland. In the letter, she screams, she shouts, she uses the f-word 41 times and it is LIT.
6) Ariana Grande scored the role of Chanel #2 after meeting with Ryan Murphy to try and get "American Horror Story" spoilers out of him.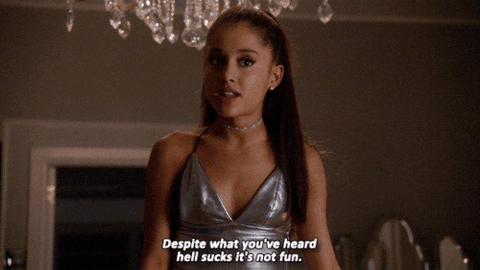 FOX / via giphy.com
Sounds like something we would do to be honest! BRB, gonna spend the rest of the year trying to get Ryan Murphy into a meeting about "AHS spoilers" in the hopes of launching my Hollywood career.
6) Joe Manganiello was originally cast as Weston Gardner but had to drop out due to "scheduling conflicts".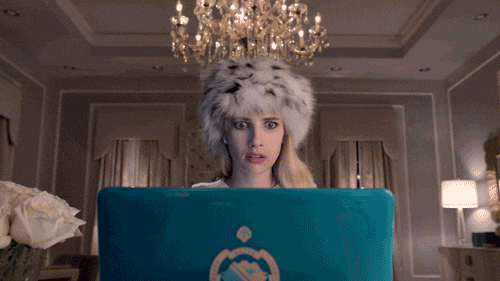 FOX / via giphy.com
Magic Mike XXL... how very DARE you take away the werewolf from "True Blood" from our TV screens. Ugh.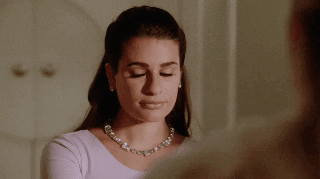 FOX / via giphy.com
Yup, Lea is 30 and Abigail is only 20 years old!
8) Emma Roberts was the first and only choice to play Chanel Oberlin.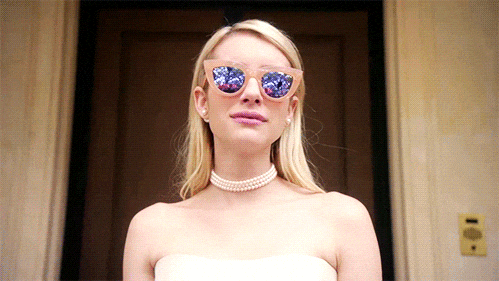 FOX / via giphy.com
Why doesn't this surprise us? Oooh, ooh! Would would win in a fight? Madison Montgomery or Chanel Oberlin? Place your bets now!
9) The majority of Nasim Pedrad's lines were actually improvised.

FOX / via giphy.com
Nasim's SNL background helped her out with the role of Gigi. The role wasn't written with anyone in mind and they didn't know what they wanted to do with her. So they let Nasim improv half the scenes and most of it actually made it into the show!
10) Chanel #3 is named after one of Charles Manson's followers.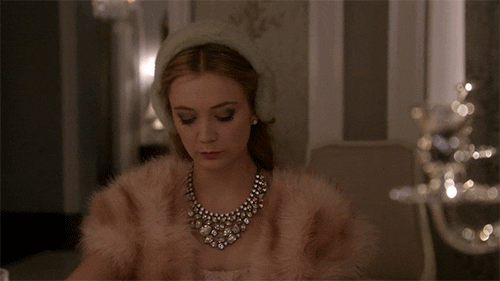 FOX / via giphy.com
So, you know how Ryan Murphy has been itching to get a show out about the infamous Manson Murders? He almost came close with the backstory of Chanel #3. Her real name is Sadie - the adopted name of one of Manson's most loyal followers. Chanel #3 is also, apparently, the biological daughter of Manson. LOL.
11) Emma Roberts, Keke Palmer and Ariana Grande all have one thing in common.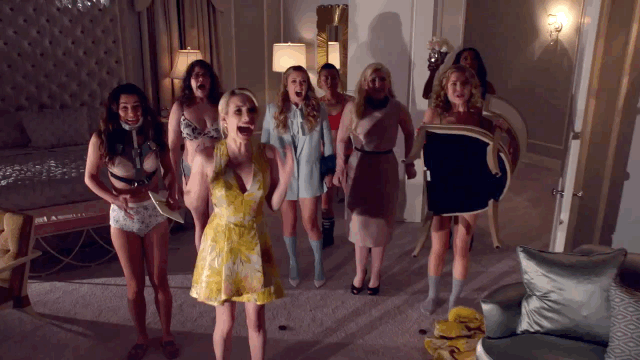 FOX / via giphy.com
They were all stars of their own Nickelodeon shows! Roberts starred in "Unfabulous", Palmer in "True Jackson VP" and Ari was one half of "Sam & Cat!"
12) The mansion used as the KKT sorority house is actually Blair Waldorf's NYC penthouse from "Gossip Girl".

FOX / via giphy.com
We KNEW we recognised that staircase!
Aaahhhhh, we're living for Season 2! Hurry up October!

FOX / via giphy.com