Sit Back And Let Annalise Keating Take Control Of Your Soul
13 November 2015, 17:23 | Updated: 8 May 2017, 17:09
She could kill us and we'd let her get away with it.
TRUE FACT: Annalise Keating is one of the best TV characters the world has ever given us. (Don't even try and disagree with us on this one!) She is your spirit animal. She is your Senpai. She is the one fierce lady that we all wish we could be. And if she's not... what are you even doing with your life?!
You need to pick up your Prada handbag, close your eyes and let her iconic one liners take over your soul right now, because Keating's Sass Class is officially in session.
When the cashier in TopShop tells you that all the stock is on the shop floor and you know they're lying through their teeth...
How to deliver the line: Calmly, with direct eye contact. Make sure to let the recipient know that they're a tragic disappointment. Maintain the eye contact as you walk away.
When someone wants to bring up beef from 5 years ago...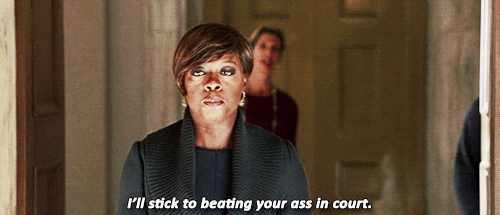 How to deliver the line: Utter these immortal words as you're sashaying away from the witch that's trying to cause trouble. Don't they know better than to mess with a (fictional) Defence Attorney!?!
When a weirdo co-worker keeps texting you and asking you out...
How to deliver this line: Annalise knows that letting people down gently doesn't work. Fire those shots in quick succession. And scatter some pity points on the floor as you leave the situation.
When one of your irrelevant friends reveals a massive spoiler from that TV show you've been binge watching...
How to deliver the line: Yell it at their face and make sure every single word is dripping with Keating Venom. No one gets away with spoiling the end of HTGAWM... NO ONE!
And when you've got a friend who can't keep up with the plot twists on your fave TV show...
How to deliver the line: Serve those Senpai vibes. Make it clear that you will not acknowledge anyone who can't keep up with the HTGAWM flashbacks. Then dismiss the peasant.
When the guy at Chipotle is trying to skimp on the guac...
How to deliver the line: Peer over the top of that glass barrier and summon your lower register. Be intimidating. Let him know that he messed with the wrong gal. Throw in one of those "I'm Watching You" hand signals for added pizzazz.
When you're at home and you open a snapchat of your squad in the club without you...
How to deliver the line: Mutter it under your breath while shaking your head and unfollowing them on Snapchat. Rude.
When your mum asks you what you'd like for your birthday...
How to deliver the line: Straight to the point. No messing around. Deadly serious. Say nothing else after this, and don't elaborate. Just give me the vodka.
When someone says How To Get Away With Murder is not a great show...
How to deliver this line: Serve up the coldest, hardest side eye you've ever served in your life. Look straight into their eyes, and destroy their soul... just like Annalise does to you every single week.
Congratulations, you have now graduated from Annalise Keating's School of Sass. Slay onwards, Kohai.