VOTE: Which "American Horror Story" Season Is The Best?
22 February 2018, 10:22 | Updated: 18 April 2018, 17:17
Ranked from Worst to Best... who will take the scare crown?
Now that there's officially another TWO seasons of American Horror Story in the works, we've decided to rank all 7 previous seasons of AHS from best to worst until season 8 and season 9 grace us with their presence. It's a tough job, but someone has to do it.
Maaaaany rankings have been done before, and everyones got their fave but we have devised a foolproof rating system that will filter the trash from the glorious glorious gold. Don't agree with us? Make sure you vote in the poll right at the end!
7) American Horror Story: Freak Show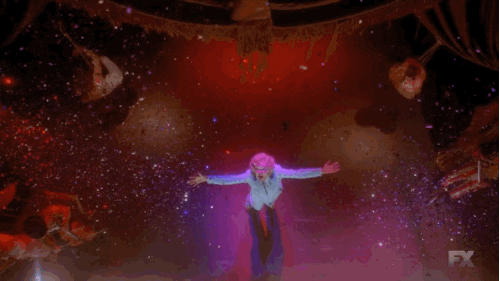 via giphy.com
PLOT: 3
Where was the central storyline tho? The main issue many have with Freak Show is that it seemed like a collection of stories about AAAALL these characters just thrown into the ring at once (circus pun intended). It felt methodical and low-key went downhill real fast. Sorry about it.
CAST: 6
HELLOOOOO FINN WITTROCK! But also, featuring the last appearances for Frances Conroy and Jessica Lange - which makes us really bitter, tbh.
JESSICA LANGE RATING: 5
Honestly, the weakest out of the holy quad - no shade. At this point in our AHS journey, we're just grateful she turned up to play the legendary Elsa Mars, tbh. #PleaseComeBack
SEASON SCARE RATING: 4
Like Hotel, Freak Show wasn't jump-out-of-your-skin-and-cry-til-you-fall-asleep scary. It's scary if you hate clowns, we guess. Twisty WAS one of the most horrifying villains of all time though.
OPENING CREDITS SCARE RATING: 3
Not scary. Sorry about it.

6) American Horror Story: My Roanoke Nightmare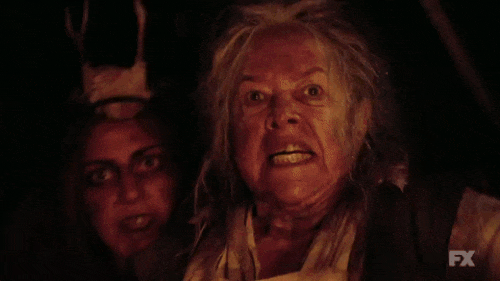 FX
PLOT: 4
Despite not knowing what the *actual* plot line was until episode 6… it kinda turned out alright, don't you think? The plot twist where they threw the actors and their characters' real life counterparts in the house with nothing but camera phones was as ICONIC as it was ridiculous but it didn't really go anywhere...
CAST: 10
The additions of Andre Holland, Adina Porter and Cuba Gooding Jr were GENIUS, and the return of Taissa Farmiga was e-v-e-r-y-t-h-i-n-g, even if it only was for twenty seconds. And um, to be honest, we could've done with MORE Sarah Paulson.
JESSICA LANGE RATING: -3
There was a moment, once everyone realised that Kathy Bates was just playing the role of the Butcher, where it became a REAL possibility that Jessica Lange might show up as the real Butcher but once again, we were left hanging. To be honest, false hope is worse than no Lange at all.
SEASON SCARE RATING: 10
Without a doubt, hands down, 100% the most terrifying season of AHS ever. It was almost impossible to watch the show at night - or in the day, tbh - without jumping out of your own skin several times an episode.
OPENING CREDITS SCARE RATING: 0
THERE WASN'T ANY. FFS.

5) American Horror Story: Hotel
via giphy.com/ Celebuzz

PLOT: 6
On paper, Hotel is EVERYTHING you'd want from a season of American Horror Story. Sex, violence, blood... Lady Gaga as a seemingly immortal goddess who ends up killing her lovers for sport. YAAASSS! But let's face it, the entire story was weak AF. Seriously, what even was the main storyline? Was it John? Because literally EVERYONE forgot about him by episode 2.
CAST: 9.5
Lady Gaga and Matt Bomer joining forces with Angela Basset, Kathy Bates, Sarah Paulson, Finn Wittrock and Denis O'Hare? SIGN. ME. UUUP.
JESSICA LANGE RATING: 0
No comment, just the sounds of us weeping. Apparently she was meant to be in the original iteration of this season but did we see her? No. We didn't
SEASON SCARE RATING: 6
The first episode gave the entire internet nightmares and a complex about all future Room 64's. But at the end of the day, it just wasn't scary. I would 100% check into Hotel Cortez right now just to have a drink with Liz Taylor, but you'll never get me anywhere near the Murder House.
OPENING CREDITS SCARE RATING: 9
I DO NOT WANT TO SEE ONE MORE UNDEAD PERSON CRAWLING OUT OF A BED THANK YOU VERY MUCH.

4) American Horror Story: Cult (Yes, it hasn't finished yet but we're still ranking it.)

FX
PLOT: 9
For the first time in a LONG time, we finally got a season where the plot is pretty evident from the outset - Evan Peters' character even spelt it out in the very first episode. And the fact that we're kinda living through some aspects of the plot line right now makes it even deeper. The twists throughout the season have been second to none too - the reveal of the therapist as Kai's brother? The dead parents in the bedroom? IVY TURNING OUT TO BE A CLOWN?! Better than Roanoke. Easily. Fight me.
CAST: 8
Despite the tragic losses of Angela Bassett, Kathy Bates and Denis O'Hare, we did get Billie Lourd and Billy Eichner who have absolutely DOMINATED this season already. Now we can't remember what AHS life was like without them. Also, Emma Roberts is back so... It's a winner.
JESSICA LANGE RATING: 0
"She'll be back... she'll be back for the Murder House/Coven crossover... SHE'LL BE BACK, OK?" said the AHS fan rocking back and forth in the corner.
SEASON SCARE RATING: 8.5
Just when you thought had enough on your plate with Twisty in Freak Show, here's ten thousand new clowns to scare the sh*t out of you. Add that to the jumps cares and the incessant need to show close ups of things with tiny holes in them and you'll be on your way to the nearest therapist. But the real tea is that sometimes real life is worse than ghosts and vampires. This is happening to some extent in the US right now, the cult of personality and what can happen when like-minded far-right people unite is horrifying.
OPENING CREDITS SCARE RATING: 10
Trump, Hillary, Clowns, bees, ominous House of Cards trumpets... It's a solid 10.

3) American Horror Story: Murder House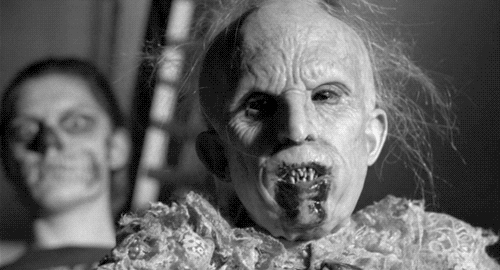 via giphy.com
PLOT: 9
OK SO... THERE'S A SCARY HOUSE. WITH SCARY HAPPENINGS. DON'T GO IN THE BASEMENT. DON'T TRUST THE CREEPY NEIGHBOUR. DON'T HAVE SEX WITH A GUY IN A RUBBER SUIT OR YOU WILL GET PREGNANT AND DIE. Such a straight forward storyline with original character tropes; absolutely no messing around.
CAST: 7
Jessica Lange, Denis O'Hare, Taissa Farmiga, Lily Rabe, Jamie Brewer... And the very first time we ever did lay eyes on Evan Peters as the problematic Tate Langdon. The rest, as they say, was history.
JESSICA LANGE RATING: 7
Honestly, we would rather face Fiona Goode in battle than have to deal with living next door to Constance Langdon. A straight up nightmare.
SEASON SCARE RATING: 8.5
Nahhhh, we've kind of blocked out all memories of Infantata. Rather not have to go through all those sleepless nights again if we're honest. And we haven't been down to a basement ever since.
OPENING CREDITS SCARE RATING: 7
Ahhh, our first introduction to the haunting tones of the AHS credits. Keep the scary baby pics tho plz. Never want to see them ever again.

2) American Horror Story: Coven via giphy.com
PLOT: 7
YES - the latter half of Coven is literally the worst EVER and YES - the initially clear plot lines ended up NOWHERE but you can't ignore the absolute GLORY of all that is the first half of the season. If anything had the potential to be even better than Asylum, it was Coven. We're giving it the benefit of the doubt.
CAST: 10
Let's be real, Coven is only ranked at number two on this because of the additions of Angela Bassett and Kathy Bates to the already flawless cast. They high-key made this season iconic.
JESSICA LANGE RATING: 9.5
"In this whole wide wicked world, the only thing you have to be afraid of... is me." *mic drop* *logs out* *walks away*
SEASON SCARE RATING: 4
There was that one time with the head in the box but other than that... wasn't scary at all. Maybe the least scariest season if we're honest.
OPENING CREDITS SCARE RATING: 8
Whatever forest they shot that in, is a place we never want to go.

1) American Horror Story: Asylum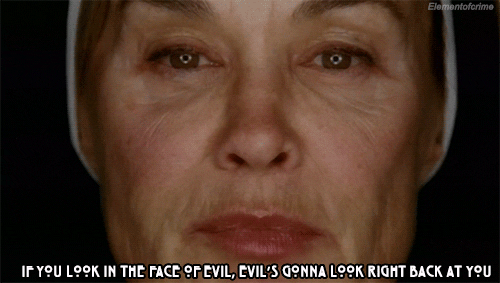 via giphy.com
PLOT: 9
NOTHING WILL EVER TOP THIS SEASON. It had a strong narrative where all the separate storylines made sense in relation to one another, it had well developed characters aka Lana Winters, and a really great ending. Ugh, it was so good. Although, we did -1 point for the inclusion of aliens because, honestly, we're still waiting for that explanation.
CAST: 9
Not a single actor was miscast in the season, and casting Zachary Quinto and James Cromwell as Thredson and Arden respectively was the most genius move of them all.
JESSICA LANGE RATING: 1,000,000
Sister Jude is the best thing Jessica Lange has ever done. Here's the evidence. End of story.
SEASON SCARE RATING: 10
Genuinely the scariest season so far. Just when you thought you would never get over Thaddeus, you met Bloodyface. RIP Everyone. In fact, nearly every plot line is horrifying, which is exactly what we came for!
OPENING CREDITS SCARE RATING: 10
We never usually skip the opening credits but honestly, the Asylum one is too much to handle. *cries*
So that's our final verdict... but what is yours? VOTE NOW!