Does Addison die in Grey's Anatomy? Next episode's trailer leaves fans terrified
24 March 2023, 14:12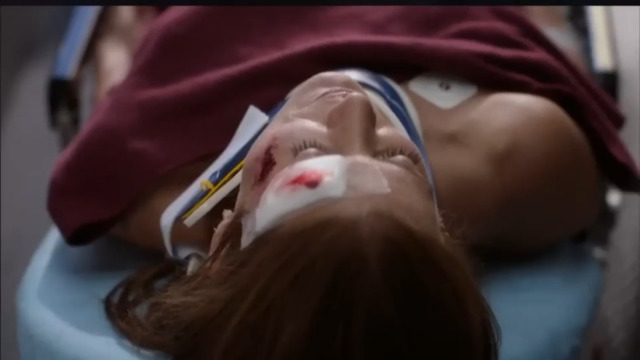 Addison's life is in danger in new Grey's Anatomy trailer
Addison Montgomery got hit by a car in Grey's Anatomy season 19, episode 11 – and now fans are terrified she's going to be killed off.
Good news: Dr. Addison Montgomery is back in Grey's Anatomy! Bad news: Fans are screaming, crying and throwing up because they think she's about to be killed off.
In case you aren't up to date with Grey's Anatomy, here's what you need to know about the circumstances of Addison's latest return. Amid the real life overturning of Roe V. Wade, Grey's has introduced a storyline involving Addison (Kate Walsh) travelling to states where abortion is now illegal/restricted and providing reproductive healthcare to pregnant people who no longer have access to it.
The medical drama's latest episode brings Addison back to Seattle and provides an update on how it's going. Spoiler alert: It's not going as well as Addison had hoped, and she's recently come under attack from anti-abortion protestors.
And in this week's episode, things take a turn for the worse resulting in Addison being severely injured after being run over by a car. Fans are now fearing that she may die in next week's episode...
Does Addison Montgomery die in Grey's Anatomy?
In season 19, episode 11, Addison arrives back in Seattle to help train a group of OB/GYN doctors who have travelled from the states where abortion has been banned, only to be met with a large crowd of pro-life protesters who have come to specifically protest her following a viral article detailing her "mobile abortion clinic" work.
Addison reveals to Bailey that pro-life supporters have now doxxed her and her family, broken into her home and threatened her, and that she has to wear a bulletproof vest while working.
The protest grows more and more out of control as the episode goes on, with Kwan ending up being struck by a brick flying through the window. At the end of the episode, Addison and one of the visiting doctors are struck by a car hurtling towards them at full speed.
The doctor goes flying over the car, Addison is knocked to the ground and both are unresponsive as the episode ends.
Based on the trailer for the next episode, Addison's injuries appear to be serious. The teaser shows Amelia in full blown panic mode and ends with Bailey and Owen operating on someone, as Owen calls for a crash cart and Bailey says: "Not yet, too many people need you."
Needless to say, fans have immediately taken this to mean that Addison is the person they're operating on – and they're starting to worry that she might die.
Viewers will have to wait until next week to find out if Addison survives. Her injuries look pretty dangerous, but is she the patient that Bailey and Owen are operating on, or is it the visiting pregnant doctor? (It certainly makes more sense that it's the other doctor, given that she literally took the full force of the car.)
Fans also think they've found evidence pointing to the fact that Addison will be fine after all. Sharing recent photos of the cast from filming, they're convinced Kate Walsh will appear in episodes that have yet to air.
Surely Grey's Anatomy wouldn't bring back such a beloved character, for such an important storyline, only to kill her off, right? The Meryl Streep of maternal-fetal medicine?! They wouldn't dare!
Penn Badgley vs. 'The Most Impossible Penn Badgley Quiz' | PopBuzz Meets