Harry Potter cast lead tributes to Sir Michael Gambon following his death
29 September 2023, 13:05 | Updated: 29 September 2023, 13:09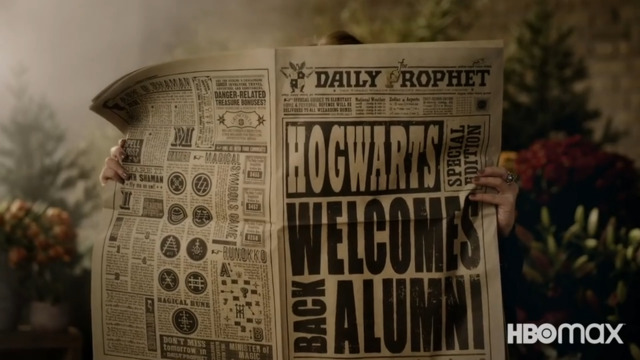 Watch the Harry Potter - Return to Hogwarts first look
Daniel Radcliffe, Rupert Grint, Emma Watson and the rest of the main cast have all paid tribute to Sir Michael Gambon.
In the wake of Sir Michael Gambon's death, multiple Harry Potter stars have taken to social media to pay tribute to the actor.
Yesterday (Sep 28), Sir Michael Gambon's family confirmed that he had passed a way. In a statement, Sir Michael's publicist wrote: "Beloved husband and father, Michael died peacefully in hospital with his wife Anne and son Fergus at his bedside, following a bout of pneumonia. Michael was 82. We ask that you respect our privacy at this painful time."
Sir Michael had a prolific career both on stage and screen but he's perhaps best remembered for playing Albus Dumbledore in the Harry Potter films. Sir Michael took on the role of Dumbledore on Harry Potter and the Prisoner of Azkaban after Richard Harris died in 2002, and played him right through to the final Deathly Hallows movie.
Now, Sir Michael's co-stars, including Daniel Radcliffe, Rupert Grint and Emma Watson, are honouring him with tributes.
In a statement issued to USA Today, Daniel Radcliffe said: "With the loss of Michael Gambon the world just became considerably less fun. Michael Gambon was one of the most brilliant, effortless actors I've ever had the privilege of working with, but despite his immense talent, the thing I will remember most about him is how much fun he had doing his job."
Meanwhile, Rupert Grint took to his Instagram page to write: "So sad to hear about Michael. He brought so much warmth and mischief to every day on set."He added, "He captivated me as a kid and became a personal role model of mine for finding the fun and eccentricities in life. Sending all my love to his family."
Emma Watson also shared an Instagram story following Sir Michael's death. She wrote: "Kind kind kind Michael Gambon. You never took it too seriously but somehow delivered the most serious moments with all the gravitas. Thank you for showing us what it looks like to wear greatness lightly. We will miss you."
Fiona Shaw also praised Gambon during a UK radio interview. She said: "I will think of him as a trickster, just brilliant, magnificent trickster. There was nothing like him, he could do anything."
Other Harry Potter stars to pay tribute to Sir Michael include Warwick Davis, Jason Issacs and James Phelps.
Magnificent Michael Gambon has died. I learned what acting could be from Michael in The Singing Detective - complex, vulnerable and utterly human. The greatest thrill of being in the Potter films was that he knew my name and shared his fearless, filthy sense of fun with me.

— Jason Isaacs (@jasonsfolly) September 28, 2023
Our thoughts go out to Sir Michael's friends, family and loved ones at this time. RIP Sir Michael!
Read more Harry Potter news here:
Tom Felton vs. 'The Most Impossible Harry Potter Quiz' | PopBuzz Meets