Has Olivia Rodrigo left High School Musical: The Musical: The Series? Here's what she's said
14 September 2022, 15:17 | Updated: 14 September 2022, 15:20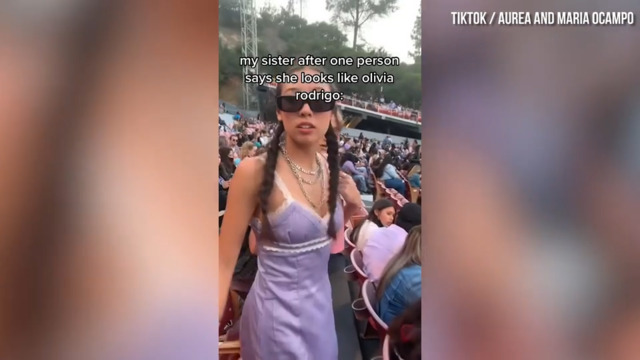 Olivia Rodrigo lookalike goes viral
Here's everything we know about Olivia Rodigo's future as Nini in High School Musical: The Musical: The Series.
It's official. Olivia Rodrigo has now left High School Musical: The Musical: The Series and won't be back as Nini in season 4.
Ever since Olivia Rodrigo released her Number 1 album Sour last year, fans have wondered if she will continue to act in High School Musical: The Musical: The Series or leave the show. Olivia has specified in multiple interviews that while she enjoys playing Nini, music is her priority now and, in season 3, she stepped down from being a main cast member in the show.
READ MORE: Olivia Rodrigo and Joshua Bassett reunite on the HSMTMTS red carpet and fans are in shambles
Following an emotional season 3 finale and a touching, personal Instagram post, Olivia has now bid goodbye to the series.
Will Nini be in High School Musical: The Musical: The Series season 4?
After the High School Musical: The Musical: The Series season 3 premiere (Jul 27), Olivia took to Instagram to post photos of her and her castmates and the caption: "love all these people so so so much. knowing and working with them has been one of the greatest joys of my life. episode 1 of season 3 of hsmtmts is streaming now! wildcats forever." Anyone else crying?
In season 3, Olivia appears as Nini in just three episodes of the show. While the rest of our East High faves spend the school holidays at Camp Shallow Lake, Nini goes to LA with her mums where she writes and meets her biological dad. We see her in the first two episodes and then she doesn't come on screen again until the season finale where her story wraps up.
In episode 8, Olivia goes to Camp Shallow Lake to watch her friends perform Frozen. She tells Miss Jenn that she's thinking of moving to LA and Miss Jenn encourages her to follow her dreams and do what's best for her. After an emotional reunion with Kourtney during the intermission, Olivia leaves notes for all of her friends and makes her decision.
In a note to Miss Jenn, Olivia writes: "Miss Jenn, I didn't want to say goodbye because goodbye means it's over. So I just want to say thank you. After tonight's performance, it's clear that there's already so much talent at East. So I'm gonna go West. Here's to the start of something new. Forever your Wildcat, Nini."
We then see a tearful Nini drive away from camp listening to her and Kourtney's song: 'Born to Be Brave'.
Talking to Entertainment Weekly about Olivia's career and Nini's season 3 arc, showrunner Tim Federle previously said: "This season it's about trying to give her character a proper sendoff while also leaving room for other characters to really step into the fray and step into the spotlight. And personally, it's a joy to see Olivia's music explode in such a big way."
He later told Entertainment Weekly in a separate interview that Olivia is always welcome to return to the show whenever she wants. Time explained: "I would never say never to Olivia, and I would never use the word 'last,' because I hope the show goes on and on and on."
Tim ended by saying: "I think it's probably a fairly safe bet to say that, for now, we have so many cast members who we love and who we're serving, that I think there's no immediate plans for Nini to be a huge part of the show going forward."
In other words, Olivia has indeed left HSMTMTS but there's still some hope that she could return in some form one day.
Sabrina Carpenter vs. 'The Most Impossible Sabrina Carpenter Quiz' | PopBuzz Meets