Wednesday's Hunter Doohan came out as gay after his girlfriend introduced him to Will & Grace
8 December 2022, 16:27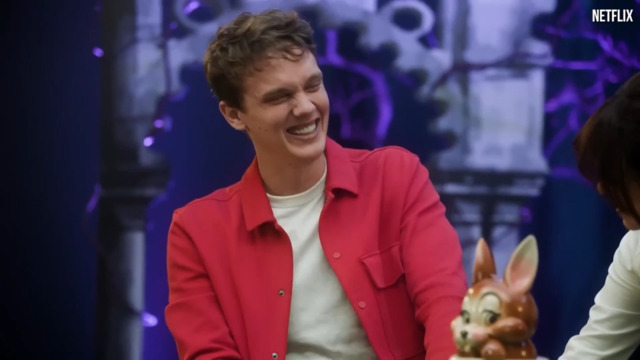 Hunter Doohan hilariously reveals what pokémon he would be
Hunter Doohan is now married to his husband Fielder Jewett and is best friends with his ex-girlfriend.
Wednesday star Hunter Doohan has revealed that watching Will & Grace played a key role in helping him realise he was gay.
Fans of Hunter Doohan will already know that the actor is gay in real life. He may play Wednesday's love interest Tyler Gaplin on screen but, outside of the show, he's married to film producer Fielder Jewett. The couple got engaged on on December 31st 2020 and had their wedding this year with Hunter's Your Honor co-star Bryan Cranston officiating the ceremony.
Now, Hunter has opened up about coming out and how his ex-girlfriend showing him Will & Grace was formative for him.
READ MORE: Wednesday's Hunter Doohan didn't know Tyler's secret until after his final audition
Speaking to Queerty about the pop culture that played a massive part in his coming out journey, Hunter said: "For me, it was definitely discovering Will & Grace in high school, which my girlfriend at the time introduced me to." Queerty then asked him if she regretted it and he said: "No! Her name is Grace and she's my best friend now—we actually moved to LA together!"
Sorry, her name was Grace?! This is too perfect. Divulging further, Hunter added: "But that show was definitely the biggest exposure I had had to queer culture up until that point. And I loved it. I don't even know how I was still "in the closet" because I was getting Will & Grace DVD box sets for Christmas!"
Elsewhere in the interview, Hunter revealed who his dream on-screen "daddy" would be. He said: "I mean, my gut answer is probably still too young to actually be a "daddy", but I have such a crush on Matt Bomer. But he's not old at all, so he probably wouldn't want to be daddy yet, haha. That's not a sentence I though I'd say today."
He also let slip that he's a huge fan of Orville Peck: "I love Orville Peck; I'm obsessed with him right now. I just think it's so cool to have this gay country artist, who also happens to have this amazing music and voice. I was kind of surrounded by country music growing up in Arkansas."
Hunter added: "I think part of me—when I was figuring out that I was queer—rejected country music because I didn't feel like I had anywhere in that space that I belonged. As I've gotten older, I realized I do like this music, and that's why I love Orville Peck."
Read more Wednesday news here:
Ross Lynch & Rocky Lynch vs. 'The Tower of Truth' | The Driver Era | PopBuzz Meets