Jenna Ortega recalls "hysterically" crying over intense Wednesday filming schedule
13 February 2023, 17:26 | Updated: 3 March 2023, 15:21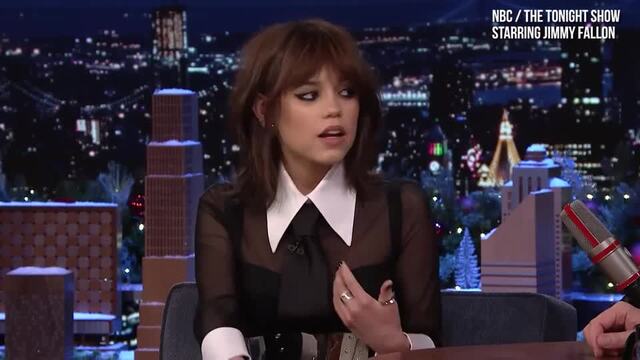 Jenna Ortega reveals how she came up with viral Wednesday dance
"There's so many FaceTime calls that my dad answered of me hysterically crying."
Wednesday might have been a breeze for us to watch, but it sounds like it's wasn't that much of a breeze for Jenna Ortega to shoot.
The star of the Netflix series has opened up about her gruelling and intense filming schedule for Wednesday, and how she ended up putting too much pressure on herself during the process.
On top filming the show alongside the rest of the cast, Jenna also took on several courses in order to master Wednesday's skill set as authentically as possible. From learning German to learning how to fence, canoe and play the cello, Jenna often spent most of her time away from the set in those lessons.
In a Netflix-hosted Q&A panel reported by Variety, Jenna opened up about how she felt during that time, and how difficult she found it.
READ MORE: Jenna Ortega reveals the one line she refused to say in Wednesday
"It was show up to set two hours early, do that 12-14 hour day, then go home and then get on a Zoom and have whatever lesson that I had. Or show up to my apartment, my cello teacher was already waiting for me," Jenna explained, recounting her schedule. "It was just constantly going, and if you could on a weekend, if we weren't shooting the sixth day that week, it was 'All right, well then, we'll get your lessons in on that day.'"
"I did not get any sleep. I pulled my hair out," Jenna continued. "There's so many FaceTime calls that my dad answered of me hysterically crying."
Jenna also explained that she felt this way because she put a lot of pressure on herself to not let anyone down throughout the process, especially the cellists watching the show. Tim Burton, who directed and served as executive producer on the show also reassured her that she was "going to do great. It's gonna look great."
READ MORE: Jenna Ortega was supposed to return as Ellie in You season 4
Despite her gruelling schedule, Jenna still apparently wanted to do as much as possible on screen herself, but time constraints on production meant she had to let go of some things.
"We started running out of time because Wednesday's in pretty much every scene," she said. "They had to start using stunt doubles or occasionally cello doubles if they didn't have time to get hands, but I was very adamant about being as well prepared as possible because I wanted them to be able to use myself, because that's so much more believable if you could see your face."
Read more Wednesday news here:
Teen Wolf Movie Cast vs. 'The Most Impossible Teen Wolf Quiz' | PopBuzz Meets