Jenna Ortega reveals the one line she refused to say in Wednesday
4 January 2023, 14:20 | Updated: 3 March 2023, 15:19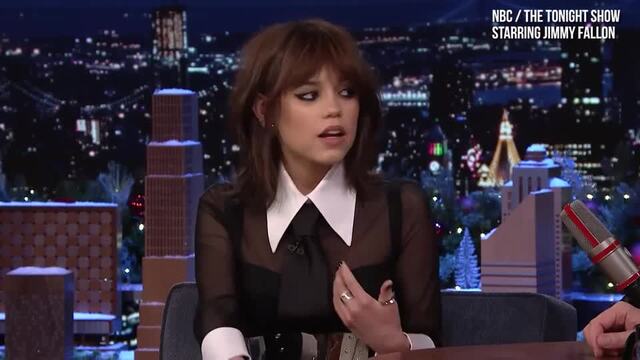 Jenna Ortega reveals how she came up with viral Wednesday dance
"I felt like we were able to avoid a lot of dialogue in an attempt to make her sound human."
After spending months embodying the iconic gloomy teenager in the hit Netflix series, it's safe to say that Jenna Ortega knows the character of Wednesday Addams inside out.
Whether it's choreographing Wednesday's dance scene herself, or sharing her input on the love triangle between Wednesday, Xavier and Tyler, Jenna has been vocal about quite a lot to do with the show.
Now the actress has revealed that she had some sway in Wednesday's dialogue, sharing that she asked to remove one specific line because it felt out of character for Wednesday to say.
READ MORE: Jenna Ortega says they cut an adorable tribute to the original Wednesday in her dance scene
The line in question was supposed to happen in episode 4, when Wednesday is looking at the black dress in the window of the thrift store in Jericho.
Speaking during a Q&A, Jenna revealed that Wednesday was originally meant to have a bigger reaction to the dress, but she didn't think it was right for the character to say.
"I remember there's a line where I'm talking about a dress and she initially was supposed to say, 'Oh my God I'm freaking out over a dress, I literally hate myself,'" Jenna said. "And, I was blown away because that sounded like… it was just a bunch of little things like that. I felt like we were able to avoid a lot of dialogue in an attempt to make her sound human."
In the scene that made it into the show, Thing directs Wednesday's attention to the dress and for a brief moment, we see Wednesday's eyes light up. Later in the episode, a quick flash of excitement washes over Wednesday when she finds out that Thing had stolen the dress from the shop for her to wear to the Rave'N Dance.
In a clip of the Q&A shared on TikTok that's been viewed over 800,000 times, fans of the series are praising Jenna's understanding of her character and questioning whether or not Wednesday would actually say that line in the first place.
"Gotta give credits to actors who know their characters better than the writers sometimes," one fan wrote. Another added: "I'm glad they didn't add this. I think her just staring at the dress in the window and Thing getting it for her was enough of a reaction."
"I'm glad she changed the line it fits Wednesday so much more," a third person said.
Back in December, co-creators Alfred Gough and Miles Millar also revealed that Netflix asked them to remove one particular line from the series, but they pushed back and it ended up staying in.
Speaking to IndieWire, Millar said that Netflix execs wanted them to remove Wednesday's "I do love stabbing" line from one of the early episodes. Explaining why it was essential that the line stayed in the show, Millar said: "That's the whole point of the character. To lose that or dilute that is a betrayal of the character."
Read more Wednesday news here:
Glass Onion Cast Take On A Chaotic Mystery Interview | PopBuzz Meets