You season 4 cast say it was important not to mock Adam's golden shower kink
13 February 2023, 17:37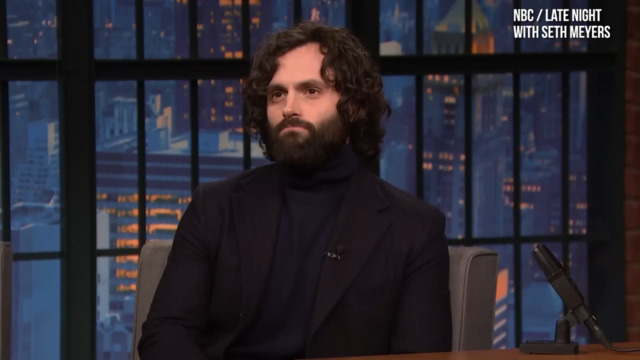 Penn Badgley says he gets nauseous filming You's gory scenes
In You season 4, Adam (Lukas Gage) has a kink for people peeing on him.
The cast behind You season 4 have opened up about Adam's golden shower kink and why it was important not to mock it.
You season 4 introduces fans to a wide variety of new faces. One of those characters is Adam Pratt who is played by Lukas Gage in the show. Adam is a wealthy, playboy son from a rich American family who now lives in London and dates socialite Lady Phoebe Borehall-Blaxworth (Tilly Keeper). During the season, we learn that Adam has a kink for being peed on.
Now, Lukas Gage and Tilly Keeper have discussed Adam's kink and how they chose to approach it while filming the show.
READ MORE: You season 5: Release date, cast, spoilers, trailers and news about the Netflix series
At first, we find out that Adam enjoys pee play when Joe stumbles across him going into a private room with a staff member at his club. Kneeling down, Adam puts on some goggles and exclaims: "Piss on me!" The male staff member then urinates over Adam's face. It soon becomes clear that Lady Phoebe is completely unaware of Adam's kink or private activities.
However, when Lady Phoebe does find out that Adam enjoys being peed on, she is free of judgement. Instead, she's upset that Adam didn't feel comfortable enough to confide in her. That being said, when Phoebe does offer to pee on Adam, she learns that he only likes being peed on by people below his social class. He likes the switch in the power dynamic.
Speaking to Digital Spy about Adam's kink, Lukas said that it was important to be "very, very honest" about Adam's kinks and fluidity. He said: "I always like to look at what we don't see about characters, what they hide from people, what's led them to that where they feel like they can't fully show people who they truly are and where that stems from."
Explaining how she approached Adam's kink with Lukas, Tilly said: "There's no judgement. As there shouldn't be. Phoebe is pretty game. She's been around the block. So it's within the realm of possibility for Phoebe to be into it. But also, Lukas and I weren't poking fun at it at all because you gotta get your rocks off somehow."
Tilly continued: "It's written as a kind of comedic moment in the show, but I actually think it's a really poignant moment for their relationship because it demonstrates how much Phoebe's willing to do to get the love that she deserves out of her partner and how far she's willing to go to prove herself."
She ended by saying: "I don't think she's acting out of insecurity or desperation. But I think it's like she wants to validate Adam as well."
Read more You season 4 news here:
Lockwood & Co. Cast Interview Each Other | PopBuzz Meets