What happens to Marienne in You season 4? Her fate revealed
9 February 2023, 23:59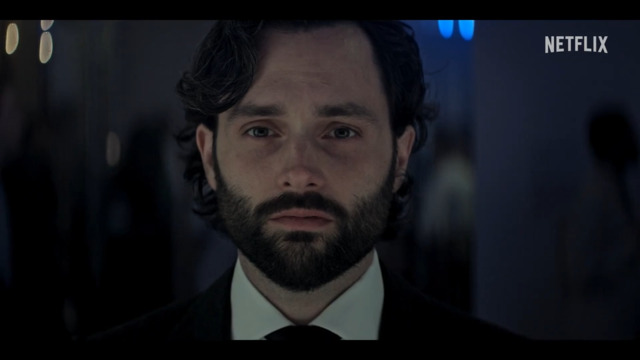 Watch the You season 4 part 1 trailer
Marienne returns in You season 4 but does Joe kill her? Here's what happens to Tati Gabrielle's character.
You season 4 has finally returned! And Joe Goldberg's obsession with Marienne is not over yet...
Tati Gabrielle returns in season 4 as Marienne, one of Joe's obsessions who first popped up in season 3. At the end of season 3, we find out that Marienne moved away to Paris. After faking his own death and killing Love in the process, Joe then heads off to France to track her down.
Based on the season 4 trailer, Joe's obsession with finding Marienne looks like it would play a pretty major plot point in the new season. However we quickly find out that that storyline ends after a few episodes and couple of brief scenes.
Marienne's storyline is not quite a loose thread, however, but viewers might be wondering what actually happened to her and whether she'll pop back up in part 2. Here's everything that You season 4 part 1 reveals about Marienne.
What happened to Marienne in You season 4 part 1?
Does Joe kill Marienne in You season 4?
In episode 1, viewers begin to suspect that something may have happened to Marienne after Joe is seen pulling Marienne's silver heart locket out of his pocket. Why does he have it? How did he get it?
"I do miss having someone out there, someone worth watching. A puzzle worth watching. You, but missing you won't bring you back," Joe says ominously, before we're shown the first flashback.
Joe reveals he travelled all over France for weeks and months trying to find Marienne, thinking that all that effort would matter to her. Joe then spots one of Marienne's paintings in a park in Paris. He asks the seller about the artist and then finds out that Marienne has gone to London to visit an art fair. That instigates Joe's trip to London.
At a party at Sundry House, Joe then has another brief flashback when his new friends start questioning why he's in London. Viewers then see that Joe manages to track Marienne down, before she panics and flees at the sight of him.
Joe follows Marienne into an abandoned warehouse where he approaches her. She draws a knife on him before confronting him about the murders of her ex-husband Ryan (who he killed to protect her and her daughter) and Love (who he killed to protect himself). When Marienne asks if Joe has killed more people, he doesn't respond, effectively confirming her suspicions.
Joe then says that he'll prove that she's wrong about him by letting her go. Marienne then leaves the warehouse and disappears.
However, we then find out that the Quinn family have managed to locate Joe by means of a hit man named Elliot Tannerburg. Much like Joe, Elliot is also tired of killing people. He decides to help Joe instead, giving him a brand new identity and swearing to tell Love's dad that he's dead and gone.
Buuuut there's also still the loose end that is Marienne. She knows that he's alive and knows that he killed Ryan and Love. Elliot tells him her plans to go back to Paris, giving him one last job to kill her and completely cover his tracks once and for all.
Joe ends up going to the train station, follows Marienne but doesn't go through with killing her. Instead, he steals her necklace and sends a photo of it to Elliot to "prove" that Marienne has been handled.
Marienne then leaves for Paris and that's the last we hear of her...
Will Marienne return in You season 4 part 2?
Well, seeing as there's still five more episodes of season 4 to come, fans are convinced that it's not the last we've seen of Marienne. Surely they can't just wrap up that storyline within two episodes and be done with it, right?
Could Marienne return to finally put an end to Joe's reign of terror once and for all, turning him into the police in the process? Or could she return to help save Joe from Rhys Montrose's deadly serial killer plot? Or could she end up being roped into Rhys' plan against her will and find herself in danger there?
We'll have to find out and see when part 2 drops on Netflix on March 9th.
Read the latest You updates and news:
Lockwood & Co. Cast Interview Each Other | PopBuzz Meets