Penn Badgley teases that Joe might run for political office in You season 5
13 March 2023, 16:05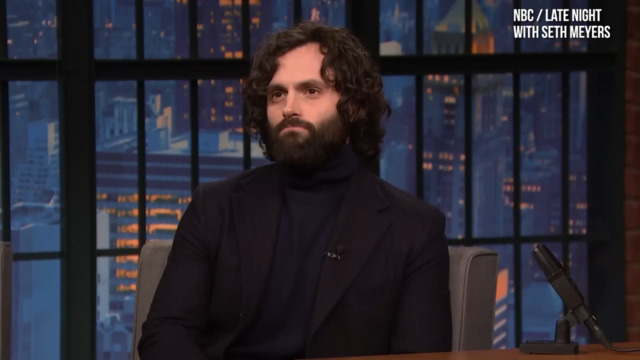 Penn Badgley says he gets nauseous filming You's gory scenes
President Joe Goldberg? It sounds like You season 5 could feature a dramatic tone change.
Penn Badgley has opened up about You season 5 and said that Joe Goldberg might run for office in the show's final season.
Over the course of the past four seasons of You, Joe Goldberg has taken on a variety of fake identities in a bid to escape his past. In You season 4, it looks as though Joe may have to pay for his crimes. However, he gets away with his murders. Not only that but he begins living as Joe again and gains notoriety after claiming to be a victim who escaped Love's abuse.
Now, Penn Badgley has teased what's in store for Joe in You season 5 and it sounds like it could be the wildest season yet.
READ MORE: You season 4's shock Joe twist called the "best plot twist ever" by fans
In a new episode of PodCrushed, Penn's co-host Nava Kavelin discusses how Joe is inspired by Rhys Montrose in season 4 and asks Penn: "Is Joe gonna run for political office in season 5?" Seemingly confirming Nava's theory, Penn replies: "Yeah, I mean, I think…I can't say. I don't know but it certainly is interesting and tracks with themes that are being explored."
Penn then continues: "I can tell you that the way that a climactic sort of series finale has been pitched to me is... It tracks with something along the lines of what you're saying, in that all of the arenas that Joe was sort of barred from, which gave him the ability to justify his hatred - I'm not allowed into this space - basically all of those barriers are gonna fall down."
Penn added: "So then you have a person who can no longer justify the way he was justifying his violence. Then you have someone who's forced to confront themselves in a different way than they ever have before."
Mayor of New York? President Joe Goldberg? You season 5 already sounds terrifying.
SPOILER ALERT: Breaking down Netflix's "YOU" Season 4: Part 2 | Podcrushed Podcast Bonus Episode
Speaking to IndieWire, Penn also revealed that season 5 could be the last season of the show and that it could see Joe get the punishment he deserves. He teases: "It feels to me like we need to do another season. It feels to me like Joe needs to get what's coming to him, and now he has further to fall because he has all this power and wealth."
Penn explained: "I know the creators of the show always had this next season in mind as its last...and then it will probably be a spectacular resolution because it feels to me like something is in the works by the very end of this season."
With Ellie, Nadia and Marienne all still alive, it's possible that one or two or all three of them will expose Joe in season 5. Here's hoping that his run for office is thwarted and he ends up behind bars!
What do you want to happen in You season 5?
Read more You news here:
Scream 6 Cast Take On The Ultimate Ghostface Trivia Quiz | PopBuzz Meets