13 Reasons Why: Will Jay Asher's Other Books Be Coming To Screens Soon?
11 April 2017, 15:11 | Updated: 18 January 2018, 16:29
With film rights available and development deals signed, will we soon see Jay Asher's other work on a streaming service near you?
Jay Asher, the author behind YA novel 13 Reasons Why, must be understandably on top of the world right now with his book now adapted into a critically acclaimed and much discussed Netflix series that has brought the story to a whole new audience.
Netflix
But it is not just the tale of Hannah and Clay that has kept Jay busy over the last few years, having published several other young adult novels all at various stages of development in the world of film and TV. So, if you love 13 Reasons Why, here are the details on the rest of Asher's work for you to check out.
The Future Of Us
Co-written with Carolyn Macker, TFOU is a futuristic novel centred around Josh and Emma who, in 1996, log on to their computer to discover they are logged into Facebook (long before Zuckerberg and co have invented it) and are able to glimpse what their lives look like in 15 years time.
Will they film it?
Warner Brothers currently own the film rights, striking a deal shortly after the book was published in 2011. No word yet on when (or if) this might ever appear but given how huge 13 Reasons Why has become, we are sure that the studio will have a renewed interest in getting this material on screen shortly.
What Light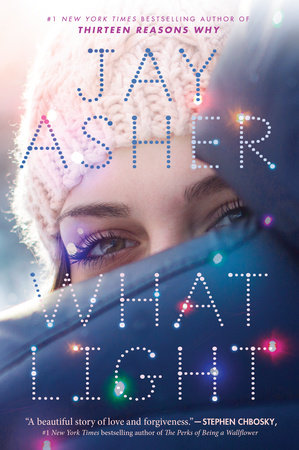 A love story set during the Christmas period, Asher's 2016 effort follows Sierra as she sets up her family's Christmas tree lot, meeting Caleb, a mysterious figure with a huge mistake in his past.
Will they film it?
The film rights to the book were shopped around at the time of publication and, especially given the Xmas connection, it is highly likely we will see some kind of movie version of this to coincide with a forthcoming holiday season.
Piper
Co-authored with Jessica Freeburg, Piper will see Asher takes his first steps into the world of graphic novels, putting a new spin on the gothic fairytale of the Pied Piper. It is due for release in October 2017.
Will they film it?
As Jay says himself in the below tweet, 'film rights are available'. Let's hope they get snapped up soon.
Yes, you can read about & pre-order my next book--a spooky awesome graphic novel. And film rights are available! https://t.co/tZz9g7UzFs pic.twitter.com/XtqbAbzg1y

— Jay Asher (@jayasherguy) April 8, 2017
____ ____ ____ ____ ____
Listen to the #PopBuzzPodcast with Scott Eastwood from Fast & Furious and Suicide Squad right here or subscribe for free on iTunes to get new episodes sent straight to your phone every Friday.