Two Families Have Said 13RW 'Triggered' Their Daughters To Commit Suicide
27 June 2017, 15:40 | Updated: 18 January 2018, 16:34
"I feel as if the show gives only one alternative for cyber bullying and other teenage issues"
'13 Reasons Why' received a huge amount of criticism for it's controversial suicide scene. Many mental health experts believed showing the scene in such graphic detail could lead to copycat suicide attempts by vulnerable teens.
Now, two families in the Bay Area - not far from where the show is filmed - have said the show in part caused their daughters to commit suicide in April.
Bella Herndon and Priscilla Chiu, both 15-years-old, did not know one another but each attempted suicide just four days apart. Both families said the girls had just finished watching the Netflix drama and have accused the show of being a trigger in their deaths.
Bella was just three days away from her 16th birthday. According to her father, John Herndon, Bella had been battling depression. She'd been bullied since middle school. But in the weeks before, she took her life. She seemed happy. "She was doing great. We put her in a new school. She had new friends. They were coming over. She was interacting with them it was very positive."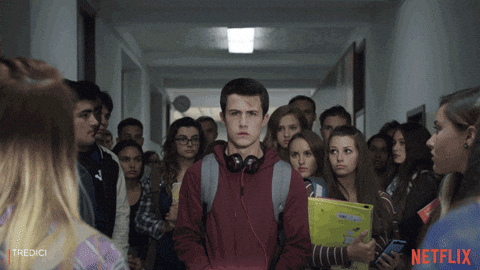 Netflix
Priscilla lived with her uncle Peter Chui. She had battled depression and other issues and looking back, Peter says he missed the signs. Her grades were going down and she told him she hated school. "And I feel like the absolute worst adult because I kept forcing her to go to school," said Peter.
They did not know each other but, tragically, both Priscilla and Bella both hung themselves days after finished watching 13 Reasons Why. Peter Chui said, "I feel it's dangerous for that small percentage of young adults who the show can become a trigger for them and I feel as if the show gives only one alternative for cyber bullying and other teenage issues."
"There is no word that describes my contempt for the people who did this. You can't convince me that they were trying to attract attention to the issue of teen suicide by showing a little girl killing herself. There's nothing positive about that."
Bella's father added: "Don't go through with the renewal for the second season of 13 Reasons Why. Stop this. This is wrong. You're making money off the misery of others."
Netflix
Peter Chui agreed and had a request for Selena Gomez.
"I would implore and beg Selena Gomez because she has a huge platform to please reach out to our kids and please tell them there are other options. There are other resources out there. This is not a way out for you."
Netflix responded with this statement:
"Our hearts go out to these families during this difficult time. We have heard from many viewers that 13 Reasons Why has opened up a dialogue among parents, teens, schools and mental health advocates around the difficult topics depicted in the show.
We took extra precautions to alert viewers to the nature of the content and created a global website to help people find local mental health resources."
Our thoughts go out to Bella and Priscilla's loved ones. If you or anyone you know needs emotional support, you can find services over here.