Schools Are Now Warnings Parents About Teens Watching 13 Reasons Why
27 April 2017, 11:49 | Updated: 18 January 2018, 16:36
Is this a good idea?
13 Reasons Why has already been named one of the most popular shows Netflix's ever made but that hasn't stopped schools warning parents about the potential dangers of the show.
As you probably know, the show follows 17-year-old Hannah Baker who kills herself and leaves behind 13 tapes. The most controversial parts of the show, including two rape scenes and Hannah's suicide, have been criticised by mental health charities who say the show could increase the instances of suicide among teens, which are already tragically high. Now, schools are getting involved too.
"While the show is fictional, the series is extremely graphic, including several rape scenes, and raises significant concerns about the emotional safety of those watching it," reads part of a letter sent Monday to parents of public school students in Montclair, New Jersey.
Andrew Evangelista, Montclair Public Schools District's mental health and harassment, intimidation and bullying (HIB) Coordinator said to ABCNews that he wrote the letter to parents in the district's 11 schools after hearing about the series from students and watching it himself.
"It just didn't seem right," said Evangelista. "There were a lot of questions I had, about how the girl was portrayed and the lack of mental health resources that were available to her."
This isn't the only school district taking action. In New York, a letter sent by administrators at the Ethical Culture Fieldston School, also warned parents about the show. It stated:
"We have heard from students, particularly in the middle school, who have viewed the series and/or have been discussing it with peers, but we know upper school students have also watched the series, and we are concerned about whether students in our lower schools are aware of it too, especially those students with older siblings."
"While the show's producers claim their intent is to start an important dialogue about bullying and suicide, mental health experts have expressed deep concerns about how the show may be perceived as glorifying and romanticizing suicide, and they worry about how it may trigger children who are vulnerable."
Both schools are leaving it to the judgement of parents as to whether their children should watch the show. And we agree that it's a good thing to let parents know and make their own decisions. You never know, the show might spark a conversation between parents and teens who are struggling with mental health issues and never talked about it before.
Netflix recently posted a study on their website that revealed that teens feel more able to start a dialogue with their parents on tough topics like sex, bullying and stress if they're watching the same shows and have something to talk about. Teens in the survey even suggested that it can help their parents better understand what's going on in their lives. Perhaps it's time to watch the show again with your parents then?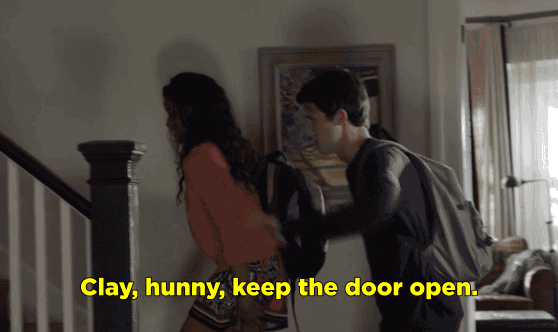 Netflix/13 Reasons Why via Buzzfeed