There's A Secret "13 Reasons Why" Blog Written By Tony And It's Creepy AF
27 April 2017, 14:05 | Updated: 7 November 2017, 16:41
There's also a bunch of tapes recorded by the "original" Hannah that you've probably never heard.
True fans of Jay Asher's novel will probably already be familiar with the original voice recordings of Hannah Baker's 13 tapes but if you're new to the series, you're gonna want to hear them for yourself and take a look at Tony's really creepy blog that was published back in 2008.
When the book was released in 2007, publisher Razorbill commissioned a bunch of videos that would act as a 'viral' Youtube campaign for the original novel. Actress Olivia Thirlby brought the voice of Hannah Baker to life on the tapes, which are all just creepy videos of an old school cassette player.
The clips are all still available to listen to on the 13 Reasons Why website as well as sitting on a YouTube account with the username 'hannahsfriend13', which we assume is meant to be Tony. But when you click on the 'About' tab on the YouTube profile, it brings up an address to a secret blog called 'Hannah's Reasons'.
The blog, which is almost an extension of Tony's involvement in Hannah's story, is still online (but no longer active) and some of the posts are actually high-key creepy.
The last thing that was posted is titled 'Maybe you should have done your homework, Mr Porter' and was accompanied by a poster highlighting key tips for suicide prevention.
via Blogspot
Under the post, there's a bunch of comments from other people but right at the top, there's one from the school's guidance counsellor Mr Porter who failed to help Hannah when she came to him for help. The comment section is also full of messages from readers so no one is quite sure if it's a staged message or if it's a fan who is pretending to be 'Mr Porter'. Creepy or what?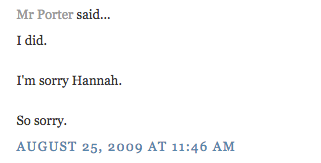 via blogspot
There's a picture of Bryce and Justin taken by Tyler, which was posted in response to a video of one of Hannah's tapes. This just adds to the creepy stalker vibes behind the collection of photographs that we can see hanging in Tyler's room in the Netflix series. But also, how did Tony even get hold of it?
via Blogspot
There's even a full police report from Jeff's death that's been posted with the title 'Guess they'll have to revise the police report, right Jenny?' (Jenny is replaced by Sheri in the Netflix series, but she is still the catalyst for Jeff's tragic death.)
via blogspot
Just like with Mr Porter's comment underneath his post, there's a comment from 'Jenny' underneath this one too.
via blogspot
Creepy AF, right? Tony continues to be as mysterious as ever even on the internet.
Netflix
____ ____ ____ ____ ____
Listen to the #PopBuzzPodcast with Secret Midnight Press' Ashley Dun & Jesse Cale and Carmen Carrera right here or subscribe for free on iTunes to get new episodes sent straight to your phone every Friday.