"Adventure Time" Is Ending In 2018... Along With All Our Hopes And Dreams
30 September 2016, 14:29 | Updated: 8 May 2017, 17:09
2016 strikes again!
How's your 2016 going? Terrible isn't it? Fancy some more bad news? Of course you do. "Adventure Time" is coming to end in 2018 after it's ninth season on Cartoon Network.
The ninth season of the show is currently in production as we speak and sadly, will be its last *sobs*. New episodes, specials, and miniseries will appear throughout 2018 before it's taken from our lives once and for all. Well, not literally but you catch our drift.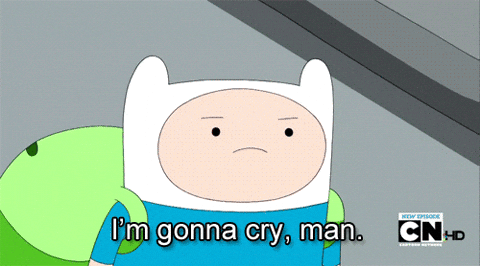 via giphy.com
Creator of the show, Pendleton Ward said in a statement: "Adventure Time was a passion project for the people on the crew who poured their heart into the art and stories. We tried to put into every episode something genuine and telling from our lives, and make a show that was personal to us, and that had jokes too! I'm really happy that it connected with an audience for so long. It's a special thing, I think."

As you can imagine, fans of the show aren't reaaaaally taking as well as had been hoped... LOL.
Cartoon Network: "We're ending Adventure Time after the next two seasons"
Me: pic.twitter.com/frexBuDRMq

— Marceline Abadeer (@VampireQueenOoo) September 29, 2016
They are ending Adventure Time soon aka ending all my hopes, dreams, fantasies, happiness, joy, and inspirations

I am not ok right now

— yhw (@brainofinsane) September 30, 2016
Adventure Time is ending, time to eat my feelings pic.twitter.com/NG7AEni43x

— Larkin (@ForTheLark) September 29, 2016
Adventure Time is ending in two years, so I guess I have to end my life.

— Kaley™ (@bbspinach) September 30, 2016
this was my EXACT reaction to hearing about adventure time's ending pic.twitter.com/MAftXwunTR

— move the bass down (@beekeeperlemon) September 29, 2016
Well, at least we've got two years worth of Jake and Finn left to savour before they leave us. :(
CN is proud of the world created over 142 half-hours of Adventure Time, & we can't wait to watch the journey continue over the next 2 years! pic.twitter.com/Q8kfUmc3zG

— Cartoon Network (@cartoonnetwork) September 29, 2016
via giphy.com