After actor Shane Paul McGhie quits franchise following disagreement
7 October 2020, 12:27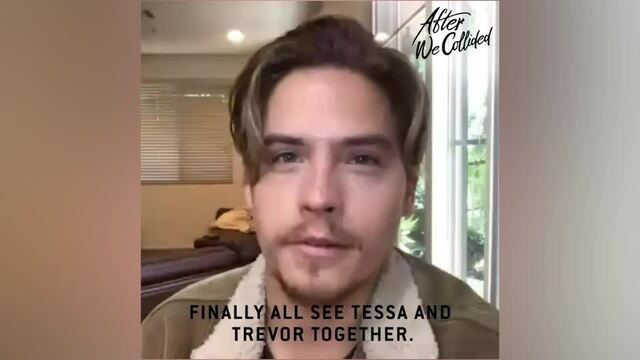 After We Collided cast explain why the US release date has been delayed
Chilling Adventures of Sabrina star Chance Perdomo is now rumoured to be replacing him as Landon in the movies.
After actor Shane Paul McGhie has revealed that he will not appear in future After films after deciding to leave the franchise.
After fans will already know that Shane plays one of the main characters, Landon, in the movies. In the first film, Landon and Tessa (Josephine Langford) become close after meeting before class. Soon afterwards, Tessa finds out that Landon is set to become stepbrothers with Tessa's love interest Hardin (Hero Fiennes Tiffin). His mother and Hardin's father are engaged.
READ MORE: After We Collided fans are losing it over Hero Fiennes Tiffin's naked butt scene
Despite playing a vital role in the films and being well-loved by fans, Shane Paul McGhie has confirmed that he's chosen to quit following behind-the-scenes disagreements. Chilling Adventures of Sabrina star Chance Perdomo is now tipped to replace him.
Taking to Instagram (Oct 6), Shane stated: "It is with a heavy heart that I am announcing I will not be filming in Bulgaria... We could not come to an agreement and I had to make a really tough call. I had to stand up for me, the way that Landon would. I am so grateful to you all for welcoming me into the After family and for supporting me along this incredible journey."
Shane continued: "I have felt your love from around the world and that has been the biggest blessing and honor. I have seen how, for a lot of you, After has changed your lives and been a light during dark times." He added: "Anna, Jen and Erin. My Landons, I am forever grateful for you. Thank you for trusting me with this character and for fighting for me."
He went on: "The sacrifices I have seen you three make for the happiness of the fandom has been inspiring. And, although, you don't always get the credit you deserve, you did things for the right reasons and 'karma will work in your favor.'"
Finally, Shane asked fans of After to be kind to his predecessor. He wrote: "Please welcome the actor who replaces me and treat him with the respect and love you've been giving me since the first day I was first brought on." JustJaredJr. have now reported that Chance Perdomo, who plays Ambrose in Chilling Adventures of Sabrina, is now set to take on the role.
Supporting Shane, Anna Todd, who wrote the After books, commented: "You'll always be LG to me". With After and After We Collided already out, two more After films are currently in the works. If they stay true to the books, Landon is set to appear in both.