After We Collided delays US release date
9 September 2020, 11:48 | Updated: 22 October 2020, 11:02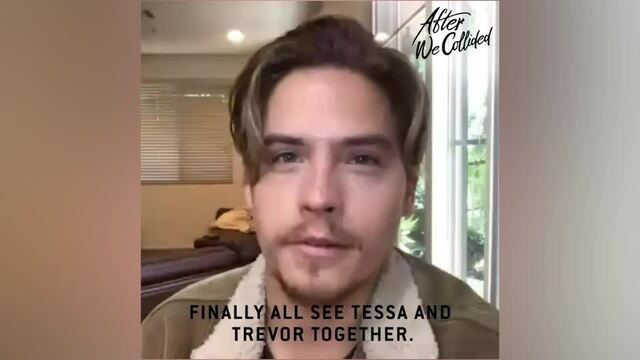 After We Collided cast explain why the US release date has been delayed
After fans in the US will have to wait even longer to find out what happens to Tess and Hardin in the sequel.
After We Collided may already be out in cinemas in the UK and Europe, but it's going to be a while before US fans can see it.
Given how successful After was, it's no wonder that people are eager to see the rest of Anna Todd's best-selling novels come to life on the big screen. After We Collided picks up where After left off. Tess (Josephine Langford) and Hardin (Hero Fiennes Tiffin) are together – but how long will it last? The sequel introduces Trevor (Dylan Sprouse) to the mix and things get complicated.
READ MORE: After We Collided fans are losing it over Hero Fiennes Tiffin's naked butt scene
The movie was originally supposed to come out in the US on October 2 but now its release date has been delayed further.
When does After We Collided come out in the US?
Yesterday (Sep 9), the After We Collided cast took to the official After movie Instagram account to announce the delay. They wrote: "The wait is a little bit longer but it's so worth it! #AfterWeCollidedMovie will now be in US theaters and on digital on October 23rd." Josephine Langford, Hero Fiennes Tiffin and Dylan Sprouse also posted a video explaining the delay.
In the video, Josphine says: "Hi guys, we're loving all of your reactions to the After We Collided trailer, and we're so excited for you to see the film." Hero then continues: "We know you can't wait to see what's next in Tessa and Hardin's story, but we also want everyone to feel comfortable and safe seeing the film." In other words, the delay is for viewer safety.
Dylan then teased: "You can finally all see Tessa and Trevor together," before Hero corrected him by saying: "Tessa and Hardin," and Josephine corrected them both by saying: "Tessa's journey."
Will After We Collided be on Netflix in the US?
As it stands, After We Collided is only being released in cinemas and via video on demand when it comes out in the US this October. However, given that After was added to Netflix six months after it came out in cinemas, we imagine that After We Collided will join the platform soon enough.
Here's how to watch After We Collided online
What do you think? Will you see After We Collided in cinemas?