Fans Are Fuming At Disney For Adding A White Prince To The "Aladdin" Movie
6 September 2017, 11:46 | Updated: 6 September 2017, 18:33
"So they "couldn't find" a middle Eastern Jasmine but they can add a completely new made up WHITE GUY?"
Another day, another drama surrounding Guy Ritchie's live-action Aladdin remake. So, what are we dealing with this time? White-washing, that's what.
In case you didn't know, the live-action film based on the 1992 Disney original, will feature a few new original characters including Mara, a handmaiden and friend of Jasmine's, played by Nasim Pedrad. But the news of a brand new "white prince" strolling through the gates of Agrabah has pissed a LOT of people off.
Billy Magnussen (Into The Woods) has been cast in the role of Prince Anders, a character who has been written especially for the movie, The Hollywood Reporter reports. Prince Anders will be a suitor from Skanland and potential husband for Princess Jasmine.
Disney
Needless to say, absolutely NO ONE is on board with the decision to throw a white character into a movie (that already exists) set in the Middle East, about Middle Eastern people, for absolutely no reason at all. Many fans online have now called Disney out for "white-washing" an already perfect, popular and successful movie.
They wrote a new character in for a remake of the cartoon Aladdin.....*looks at new character* pic.twitter.com/0QuGdskP9u

— ThaTzuBurr (@BaeTzuBurr) September 6, 2017
Why did they add a white prince to #Aladdin? This is going to be a disaster pic.twitter.com/0Hjrs2FNzT

— Jovanny Evans (@jobonito) September 6, 2017
So millions of people have seen the Aladdin cartoon.They couldn't trust the live action to work enough without creating this?! https://t.co/ZeX9XDLGo2

— #1WonderWoman (@bgirl65) September 6, 2017
so they "couldn't find" a middle Eastern Jasmine but they can add a completely new made up WHITE GUY https://t.co/YqYUQ8OLBF

— tori (@rotshayden) September 6, 2017
Y'all can't even let brown people have their own fake kingdom? https://t.co/r7TcGY9efO

— Nicholai Joaquin (@nicholaisays) September 6, 2017
The gentrification of Agrabah has begun. Next up, gourmet, artisanal hummus. https://t.co/UbTgBDU2of

— DoraMilaje Jen (@darlinginmyway) September 6, 2017
#aladdin I am so confused to why they add a new white character to a complete story that is set in the Middle East pic.twitter.com/71xzOpFXCS

— Nardy (@NardosNy) September 6, 2017
..and currently over on the Disney live-action #Aladdin set pic.twitter.com/GDg3LEinC3

— Kyle Krieger (@KyleKriegerHair) September 6, 2017
When you have to rewrite a perfect story to whitewash a movie. #Aladdin pic.twitter.com/kUV9t6YI09

— Amir (@AmirAminiMD) September 6, 2017
Honestly, why? If it's not broke, don't fix it.
The live-action remake has already been hit with a bunch of criticism after the casting for Princess Jasmine was announced. Fans were unhappy that the production ended up casting an actress of non-Arab descent to portray Jasmine (Naomi Scott), instead of an actual actress from the Middle East.
Aladdin is scheduled to be released in 2019. Complete with hot Jafar and one brand new, unnecessary shiny white prince that absolutely no one asked for.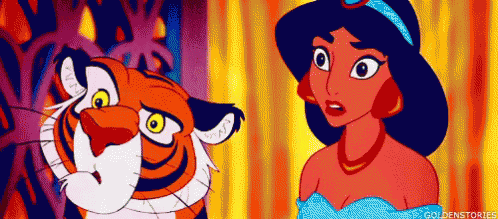 Disney