Alex and Justin From "13 Reasons Why" Once Made Out In A Movie Together
11 May 2017, 11:33 | Updated: 18 January 2018, 16:32
Nope, they're not dating in real life.
When 13 Reasons Why dropped on Netflix at the end of March, it took all of 30 seconds for the internet to start scouring the cast's social media pages and start posting about Miles Heizer (Alex) and Brandon Flynn's (Justin) off screen relationship. Everyone believed that they were dating IRL until a rep for the show had to come out and said that they were just friends from the show.
Now, it looks like their friendship goes BEYOND the show because they've just been spotted in a movie together and everyone is freaking out.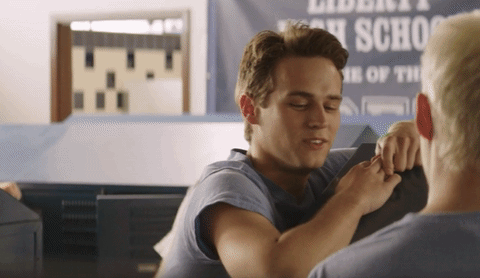 Netflix
The award-winning short film, Home Movies, recently appeared in Outfest Fusion Film Festival which honours the work and stories of LGBTQ+ lives and people of colour and was discovered on YouTube before making its way onto Twitter and into the hands of the fandom.
And now the internet is obsessed.
THIS SHORT FILM CALLED ,,HOME MOVIES'' THAT HAS BRANDON FLYNN AND MILES HEIZER IN IT IS ONE OF THE PUREST THINGS I'VE SEEN IN A WHILE. pic.twitter.com/yNNgQLjLlJ

— jula (@svnnyprince) May 9, 2017
BRANDON FLYNN AND MILES HEIZER KISSING WHAT A BLESSING pic.twitter.com/gxUeU3EUNf

— newtmas maartje (@THEMAZEKILLS) May 9, 2017
BRANDON FLYNN AND MILES HEIZER KISSED ON HOME MOVIES PART 1 I FUCKING LITERALLY DIED OH FUCKING GOD

— ㅤgㅤ (@lustforziam) May 10, 2017
idk if they're dating but brandon flynn and miles heizer really did: that pic.twitter.com/YhegDF3ePJ

— giulia (@tracobsivans) May 10, 2017
The film itself, which was made by Kevin Rios, consists of a collection of "home movies" about the lives and relationships of LGBTQ+ couples. On Vimeo, the film is captioned: "In this home movie collection of gay men, memory serves as an act of hope, power, and above all, resilience."
And now, thanks to the fandom, this short film and it's important topic is getting a LOT more visibility.
FRIENDLY REMINDER MILES HEIZER AND BRANDON FLYNN KISSED pic.twitter.com/0Tc4cpXMlT

— newtmas maartje (@THEMAZEKILLS) May 10, 2017
You can watch the film here:
Home Movies pt. 1 from Kevin Rios on Vimeo.
____ ____ ____ ____ ____
Listen to the #PopBuzzPodcast with Niall Horan right here or subscribe for free on iTunes to get new episodes sent straight to your phone every Friday.