OMG! "American Horror Story: Coven" Is Coming Back For Another Season And We're Screaming
19 October 2016, 14:18 | Updated: 6 November 2017, 10:36
Oh, and the true identity of Lady Gaga's character will make you want to DIE.
AMERICAN HORROR STORY BOMBSHELL INCOMING! And you might need to take a seat for this one...
Ryan Murphy just sat down to talk about the big plot twist heading our way in episode six and in doing so, he confirmed something so wild we can hardly contain ourselves. (Sidenote: Is it just us or do the rest of you have disgustingly high expectations for this episode too?!)
After weeks of speculating over the intricate storylines involved in the big "Anthology Episode" theory, Murphy revealed that Lady Gaga's witchy character in Roanoke is in fact the ~ORIGINAL SUPREME~.
via giphy.com
OMG WHAT?! Gaga's earthy ancient, husband stealing Witch, Scathach, is in fact the very first Supreme to have ever lived and has strong ties to Fiona Goode, Cordelia Foxx and the rest of the Coven.
Not only that but he also dropped the bombshell that the series will definitely be revisiting Coven at some point in the near future and he is intent on bringing Gaga's Supreme into the fold: "At some point, we're going to do a return to the Coven season. I don't know what season that will be."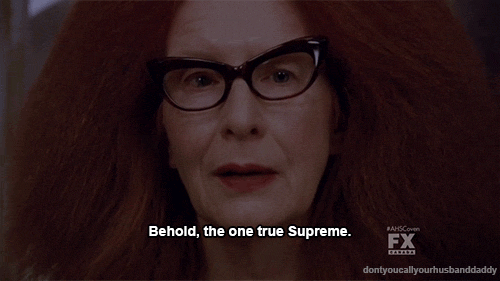 via giphy.com
During the panel, Murphy also confirmed that fan-fave Taissa Farmiga would be making an appearance in Roanoke (but we knew that anyway!) along with Finn Wittrock, who is playing "his most f*cked up character yet."
He also revealed that Season 7 will focus heavily on characters from Freak Show: "Next year, we will be going back to some Freak Show characters, deeper histories and mythologies. So we're sort of still exploring season 4 in season 7." Does that mean we're finally gonna get some extra-terrestrial action?
Right then, we don't know about you but we're already sweating at the thought of a potential Gaga/Lange Supreme-off... Who will win?
via giphy.com
___ ___ ___ ___ ___
Listen to this week's #PopBuzzPodcast featuring the boys from The Vamps right here on Soundcloud, or download from iTunes, AudioBoom or TuneIn to catch up with all the previous episodes!