The First Four "AHS: Cult" Episode Titles Have Been Revealed And They Sound Terrifying
27 July 2017, 19:54 | Updated: 6 November 2017, 10:26
But what do they meaaaaaan?
As we edge closer and closer towards the long-awaited Cult season of American Horror Story, the more and more information we're getting about what's going to happen - which is totally weird and makes us feel hella uncomfortable.
We already know who Evan Peters will be playing, we already know who Sarah Paulson will be playing, we already know how many episodes this season will have... it feels like we know too much. And now we've just learned the names of the first four episodes.
According to ScreenRant, the titles of the first FOUR episodes on AHS: Cult have apparently been released and they sound absolutely terrifying but also, pretty predictable.
•NEWS: These are the titles for the first four episodes of #AHSCult pic.twitter.com/BPWEIlS5GM

— AHS CULT (@ahsnews_feed) July 27, 2017
But what do they all mean?
As Murphy has previously revealed, the show will start on election night so the title of episode one is fairly straight forward. Sorry guys but it looks like we're gonna have to relive one of the most surreal nights in recent history through the eyes of Ryan Murphy.
Episode two is titled 'Don't Be Afraid Of The Dark' and to be honest, we're already sweating over it. We KNOW what happens in the dark on American Horror Story... Thaddeus is what happens in the dark. And with those clowns from the promos? Hell no.
'Neighbours From Hell' (episode 3, if you're keeping track) could possibly indicate that something will kick off or there'll be a huge incident in the fictional suburban neighbourhood of Brookfield Heights, Michigan. Side note: Michigan is considered a swing state so you can bet your ass there's going to be high tensions and dramatic disagreements between the Democrats and Republican voters in the neighbourhood.
'11/9' immediately looks like a reference to 9/11 at first glance but the title is probably just in reference to the ~actual~ date - November 9th. If you can cast your minds back to the tail end of last year, you'll remember that the election was held on November 8th. Could the date of this episode signify that the first four episodes occur over the course of one night?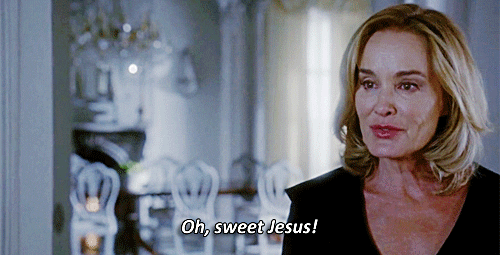 FX
The season will consist of eleven episodes (still time for plenty more terrifying titles) and will drop on FX on September 5th. There is also a really creepy interactive fan experience running alongside the release where you can see exclusive cult recruitment videos and clues for the season.
Whatever happens, can someone just let us know at what point in the season those clowns will start popping up? 'Cause that's when we're gonna have to start watching it during the day with all the lights on. THANKS BYEEEE.