The Cult From "American Horror Story" Is Sending People Creepy Messages On Facebook
26 July 2017, 15:58 | Updated: 6 November 2017, 10:26
Hello? Is that Evan Peters I'm speaking to?
There's only 41 days until American Horror Story returns to our screens for its long awaited Cult themed season and no one can cope. Information about the notoriously secretive anthology series has been pretty hard to come by in previous seasons but this year, it's a smash and grab and now they've done something that AHS have never done before and it's creepy as HELL.
When the first teaser trailer was unveiled at Comic Con on Thursday (July 20), a URL flashed up at the end of the "recruitment" projection display which read 'AHS7.com'
TEASER TRAILER #AHSCULT pic.twitter.com/feYRGoBCZL

— Gus (@YungWildGus) July 21, 2017
When you visit the site (which is only available to people in the US), it takes you to the same video of all those creepy clowns. Once you've watched it, you click on the logo and it will reveal a welcome screen that says 'It Begins Now. You have successfully joined us.'
AHS7.com
Once you hit the continue button, you need to agree to let the site connect with your Facebook Messenger. A few minutes after you give them access, you will receive a message from the Cult Leader (or other mysterious recruitment person) who will ask you if you have any questions. You then have the option to respond with things like 'What is this?' and 'Who are you?'
via Facebook
You're then told that you will be contacted again in the near future and instructions will follow. If you carry on talking to the cult, type 'I am weak' or 'I have no fear' and you will be sent a never before seen GIF of another creepy clown.
New AHS gif from their Facebook messenger. pic.twitter.com/HnP8WWS5L8

— All The Best Gifs (@thatawesomegif) July 23, 2017
Once you've done all that and spoken to who we now imagine to be recruitment officer Evan Peters locked in a dark room typing away on Facebook Messenger and laughing maniacally, you can return to the AHS7.com homepage to find that you've been given an identification number for the cult and another seven locked 'initiation tasks' labelled week two through week seven have appeared in the side bar.
via THR
According to The Hollywood Reporter, the site will update over the coming weeks with a brand new home page and will gradually reveal new information and content to the users. There will also be real world activations in various locations that will direct members back to the site for new information.
Honestly, the level of promo for this season has been HUGE compared to the secretive Roanoke and we can't wait to see how it all ends. But will it be the best season to date?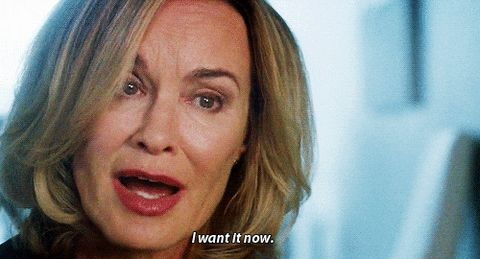 FX