"American Horror Story" Just Dropped A Big Bombshell About That Murder House/Coven Crossover…
24 January 2017, 11:31 | Updated: 6 November 2017, 10:37
Sarah Paulson, you in danger gurl.
While the real American horror story is seemingly starting to unfold across pond, TV's very own American Horror Story is pulling out all the stops to ensure that it doesn't lose its shiny golden crown.
A few days ago, Ryan Murphy revealed a few details about the upcoming seventh season of AHS. He kept his mouth shut on the theme (lol, what's new) but did happen to spill a few casting details. Spoiler alert: Sarah Paulson and Evan Peters will be returning again.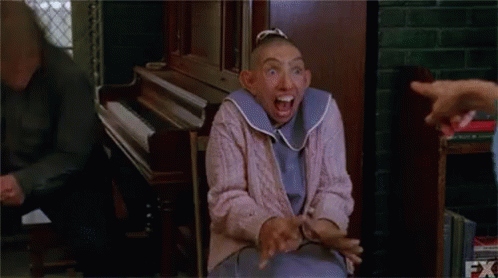 FX / via giphy.com
As if that wasn't enough to get us hyped about the future of the anthology, he's only gone and dropped a bombshell about the future Murder House/Coven crossover, hasn't he?!
Murphy just revealed in an interview with Entertainment Weekly about what that season might look like and which characters will be making a comeback.
It's a character from Season 1 that will be thrust into the world that you are left with at the end of Coven, which is sort of like the male/female/witch academy.

Ryan Murphy, Entertainment Weekly
*ONE* CHARACTER FROM MURDER HOUSE?! Didn't everyone die? Well, everyone except Billie Dean Howard (Sarah Paulson) and Constance Langdon (Jessica Lange), right? Oh, and Vivien's anti-christ spawn, Michael. *sweats* Omg, what if it's him. What if he gets sent to the Academy?
The plot thickened when he continued: "And then all of those characters will intertwine, which is confusing because some of them are from Seasons 1 and 3. Like, Sarah Paulson will probably be playing 18 characters."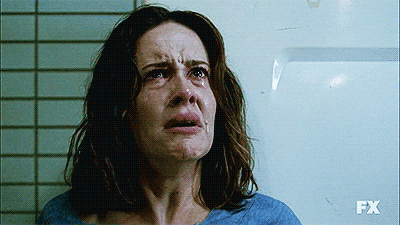 FX / via giphy.com
The Murder House/Coven crossover looks like it won't be hitting our screens until late 2018 at the earliest. The anthology has been renewed for another two seasons - not including this year's seventh season. Fingers crossed Jessica Lange is looking for work by the time this rolls around then...
So, which Murder House character do you think will be making the trip from LA to New Orleans to pay a visit to Cordelia and Miss Robichaux's Academy? We will 100% let Jessica Lange sit this one out if you can promise us 18 Sarah Paulson characters tbh.