An "AHS" Murder House X Coven Crossover Season Is Happening So Start Planning Your Funeral NOW
31 October 2016, 16:22 | Updated: 6 November 2017, 10:36
CONFIRMED: Ryan Murphy is officially the gift that keeps on giving.
Just when you thought American Horror Story: Roanoke couldn't push you any closer to the edge of death, Ryan Murphy has gone and dropped ANOTHER bombshell and we have a feeling you're going to actually DIE for real this time - but in the good way.
Remember when Murphy teased an entire season of American Horror Story that would revisit the Coven and introduce the origins of Lady Gaga's Witch in the Woods and original Supreme from Roanoke?
Well, speaking at Entertainment Weekly's PopFest, Evil Overlord Murphy announced that he is not only planning a second Coven season, but that very season in question will actually be a direct crossover with... MURDER HOUSE!
"We do know what we're going to do! It's not going to be next season, but we are going to do a season that's a crossover between Murder House and Coven together, which is very bizarre." via giphy.com

Murphy went on say that the crossover season would feature "characters from Murder House and characters from Coven together."
"I've [already] started going to actors from both of the seasons, quietly, saying, 'I think in this window, if you could fit us in... so yeah, it's fun. It's weird."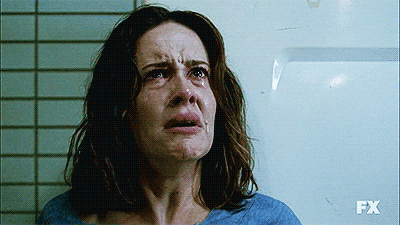 via giphy.com

Excuse us while we catch our damn breath. OK, so, it's not going to be next season because there's already a secret AHS season in the works which means we can probably expect the Murder Coven (as it shall now be known) in late 2018. But what about the cast and potential returning characters?
Does this mean Connie Britton will finally come back - we mean, Vivien is stuck in the Murder House forever so there's literally no escape. And he said characters from BOTH seasons, right? TATE AND KYLE IN ONE SEASON!? That will definitely make up for the lack of Evan during Roanoke!
And we swear to GOD, if this crossover season doesn't bring back Jessica Lange for a bitch-off between Constance Langdon and Fiona Goode, we will see you ALL in court.


This is already shaping up to be everything we've ever wanted. Cheers, Ryan. Excellent work.
via giphy.com
___ ___ ___ ___ ___
Listen to this week's #PopBuzzPodcast featuring The Chainsmokers right here on Soundcloud, or download for free from iTunes to get new episodes sent straight to your phone every Wednesday. You can also find us on AudioBoom or TuneIn - if that's what you're into.